Latin America's Bid To Challenge China's Dominance In The Lithium Market
Michael Kern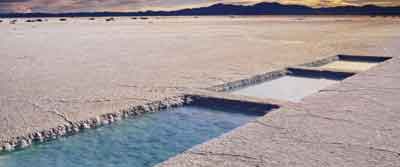 The government of Bolivia has called on its neighbors, Argentina, Brazil and Chile, to work on setting a Latin America-wide policy on the exploitation of lithium. The idea is part of a broader initiative to form an OPEC-like cartel to collectively boost these countries' bargaining power. 
President Luis Are spoke in La Paz, saying, "We must be united in the market, in a sovereign manner, with prices that benefit our economies, and one of the ways, already proposed by (Mexico's) President Andres Manuel Lopez Obrador, is to think of a kind of lithium OPEC."
Bolivia has the world's largest lithium resources at 21 million tonnes, according to the US Geological Survey. The "lithium triangle" area of northern Chile and Argentina, which includes sprawling salt flats, has about 65% of the globe's known resources of the metal. 
The region could hold nearly 70% of the world's lithium reserves if Peruvian, Mexican and Brazilian potential reserves were added, providing a new source of income for Latin American economies and a restructuring of the world economic scenario around the energy transition, according to the Latin American Strategy Centre for Geopolitics
Bolivia inked a deal with a consortium that includes Chinese battery giant CAT to jointly extract lithium from its Uyuni and Oruro salt flats in January. The partnership would give the group of companies, including mining giant CMOC, rights to developing two lithium plants. 
President Are wants to industrialize Bolivia's lithium before the end of his term in 2025 but remains cautious of the potential geopolitical implications that it may bring. 
President Are explained, "We don't want our lithium to be in the Southern Command's crosshairs, nor do we want it to be a reason for destabilizing democratically elected governments or foreign harassment." 
Chile, Argentina and Bolivia have been discussing creating a lithium cartel since July last year. They aim to integrate other Latin American nations with a nascent lithium industry, including Brazil and Mexico. 
Analysts, including Geopolitical Monitor's Arman Sidhu, believe the plan will likely face opposition from environmental and indigenous groups that contributed to left-wing victories in Chile, Argentina, and Brazil. He also warned of additional obstacles, including China's potential unwillingness to have its dominance in the industry undermined.
Opponents argue that lithium mining, which can involve vast amounts of water, can cause significant environmental damage, particularly to local communities. 
There have also been concerns about the rights of indigenous people in the region who may be affected by mining the metal. 
Supporters argue that developing a lithium industry in Latin America could boost the region's economies, particularly as demand for electric vehicles and renewable energy grows.
In recent years, China has been the dominant player in the lithium market, controlling a significant proportion of the world's supply of the metal. 
China's position has led to concerns about the security of supply, particularly as demand for lithium is likely to increase due to the ongoing renewable energy and electric vehicle boom.
Developing a lithium cartel in Latin America could help counterbalance China's position in the market and provide greater security of supply for the rest of the world.
The idea of a lithium cartel is still in its early stages, and it remains to be seen whether it will come to fruition. 
It could represent a significant shift in the global lithium market and provide a new source of income for Latin American economies. 
Whether this will be achieved without significant opposition remains to be seen, but the potential benefits of a lithium cartel may be too substantial to ignore.
By Michael Kern for Oilprice.com 

 

 

 

 

Michael Kern is a newswriter and editor at Safehaven.com and Oilprice.com