Tesla Fires First Shot In EV Price War
Irina Slav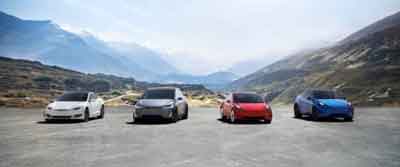 Early this month, Tesla's Elon Musk announced the company's next-generation cars would cost half as much as current models. The bombastic statement was completely in character and did not exactly take the media world by storm, but it made its way into rivals' headquarters and raised some hackles. Musk is notorious for setting his companies' overambitious targets and then failing to hit them as planned. Yet Tesla did become a profitable company, and it continues to be consistently profitable, with its bestsellers in many markets. Chances are, however outrageous a statement by Musk is, his rivals would hear it and not ignore it. And maybe start arming themselves for the coming price war.
According to Musk, the next-generation Teslas could cost as little as $25,000. This would certainly be an improvement of current prices even as Tesla cuts them repeatedly to stimulate demand. If it happens, this would also put EVs—and not just any EVs but luxury Teslas—on a much more equal footing with ICE cars. And that's the prize that the EV industry has been struggling to get.
The struggle has been getting increasingly intense lately. Hit by inflation like all other industries, automakers have been particularly sensitive to the blow because of their transformation plans. According to data from AlixPartners, cited by the Wall Street Journal this week, the auto industry has invested and plans to invest some $526 billion in the electrification of its lineups by 2026.
This is definitely not a small sum that you could just forget about in case plans don't work out. The auto industry needs its EV plans to work out. And that means making those EVs more affordable—at a time when raw material inflation is also climbing higher and showing no signs of reversing the direction of its movement.
Since this raw materials inflation is largely driven by forecasts for a surge in demand from the electric vehicle sector, it looks like something automakers would simply have to get used to. This is especially true in light of the fact that the supply of these materials is lagging behind demand projections, and the catch-up will take many years, given that a new mine takes years from final investment decision to first production.
This makes for a complicated situation in which the maker of the world's best-selling electric vehicle model just said he planned to halve the price of these cars in the future. The complications are already evident: at a recent meeting of Volkswagen executives with analysts and investors, one analyst brought up Musk's cost-cutting plans with reference to VW's own EV plans.
"I really struggle to see how VW is going to have an affordable EV that's profitable to you in a couple of years' time," Patrick Hummel from UBS said, referring to VW's ID. 3, whose price tag starts at some $40,000 and that's only "slightly above break-even levels" for the company.
The company's response came from its chief financial officer: "We are very aware that competition will become tougher," Arno Antlitz said, as quoted by the WSJ. "So we try to stay as fixed as possible on the overhead cost side."
He also went on to mention the upcoming low-cost electric VW, planned to retail for less than $27,000 and hit markets in 2025, by which year, according to Antlitz, VW should have "significant scale."
VW has been one of the most generous investors in EVs in the automaking industry and it has made no secret of its ambition to take on Tesla. So far, however, it has consistently failed to even challenge the position of the American company. In the U.S., Volkswagen is not even in the top five bestselling EVs, while Tesla has three models there.
The good news for VW and other challengers to Tesla is that European legislation is working in their favor. Even if they cannot lower the cost of their cars enough to make them affordable enough for millions of people, the ban on ICE car sales would certainly do that by taking the element of choice away from buyers.

By Irina Slav for Oilprice.com




 

 

 

Irina is a writer for the U.S.-based Divergente LLC consulting firm with over a decade of experience writing on the oil and gas industry.