The Real Reason Why Automakers Slashed EV Prices
Rystad Energy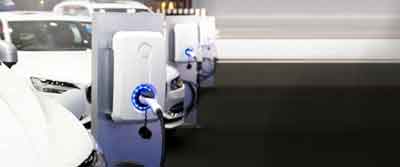 The global electric vehicle (EV) market is reeling from one of the most dramatic collapses in monthly sales to date, with Rystad Energy research showing that only 672,000 units were sold in January, almost half of December 2022 sales and a mere 3% year-on-year increase over January 2022. The EV market share among all passenger car sales also tumbled to 14% in January, well down on the 23% seen in December.
EV sales have been on a relatively consistent upward trajectory in recent years – aside from periods impacted by Covid-19 pandemic-related supply chain issues – and a significant collapse in sales is worrying news for the industry. Tax credits and government subsidies have propped up the EV market to date as countries identify passenger car fleet electrification as a core tactic for meeting net-zero emissions goals, but the reduction or removal of these subsidies this year has dampened consumer sentiment. Automakers are now scrambling to reverse the downward spiral and salvage the market in 2023.
The automotive market is usually cyclical, with sales taking a hit after new subsidy rules come into effect at the start of each year, followed by a gradual recovery. However, the cuts in January this year hit harder than normal, triggering this dramatic collapse. The ramifications of this will be long-lasting and will impact sales through the first quarter of the year and potentially the rest of 2023.
EV subsidies in many European countries and mainland China were sliced at the start of the year, and a return of any significance is highly unlikely in the immediate future. One ray of hope for the global outlook is the US market, which is just beginning its electrification journey and rolling out tax credits thanks to the Inflation Reduction Act. The US was the only major market that saw an increase in both EV sales and market share year-on-year, although its contribution to the global total is still relatively minimal.
The sands are shifting for the global EV market. Consumer appetite for electric cars remains strong, but it's clear that tax credits and subsidies still play a significant role in convincing consumers to make the switch. Carmakers may have no option but to respond with reduced prices. 

Abhishek Murali, clean tech analyst, Rystad Energy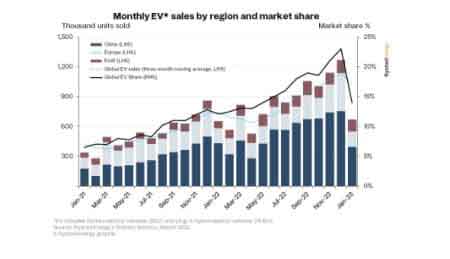 China, the largest EV market globally, experienced a near 50% cut in EV sales in January 2023 compared to the prior month, but the year-over-year change was relatively flat due to the affinity of consumers for cheaper domestic-made models. The Chinese Association of Automotive Manufacturers forecasts a slowing of sales momentum this year, predicting around 8 million EV sales this year. We expect slow sales to continue through the first quarter, but CATL's announcement of a price cut in battery cells for automotive offtakers will help boost sales again.
Although there was a marginal year-on-year growth in EV sales in Europe last month, market performance has been grim, with many countries showing a steep drop in EV sales from December 2022. With EV subsidies coming to an end, many consumers brought forward their purchases from the first quarter of 2023 to December 2022, leading to a massive spike in purchases before the end of the year. Widespread subsidy reductions will have a lasting impact on sales activity, but automakers will not tolerate this weakening for long – Tesla is already testing their pricing limits, offering a massive discount, triggering a large volume of pre-orders.
Germany have seen a steep falloff in sales and market share. Sales in Germany dropped about a third in January compared to 2022, totaling only 27,000 for the month. Market share in the country also fell off a cliff – after EVs accounted for 55% of all car sales in December 2022, the market share fell to just 15%. Elsewhere in Europe, the EV market share in the UK halved from about 40% to 20% month-to-month and from 50% to 24% in the Netherlands. This downward trend is replicated across much of Europe and will be giving automakers sleepless nights.
Norway experienced the worst monthly passenger car sales in over 60 years, with just 1,860 vehicles sold, including EVs. Electric cars accounted for 76.3% of those sales, totaling 1,419 units. That market share was also the lowest and dipped below 80% for the first time in two years. A slew of new taxes have contributed to this, and battery electric vehicles are now impacted by two new taxes that will negatively impact sales.
Across the Atlantic, the US anticipated falling EV sales and was one of the only markets to implement fresh incentives through federal tax credits. Around 80,000 EVs were sold in January – a 7.8% market share. However, there was no sales surge from these credits as automakers decided to offer EV discounts in December to avoid an unmanageable influx of orders. US automakers are also grappling to make smart pricing decisions for their EV models. Tesla, for instance, is slowly increasing vehicle prices to gauge consumer price ceilings after previously offering sizeable discounts. The US market outlook for 2023 is strong, and the country is expected to break the 10% adoption mark this year.
By Rystad Energy




  

Rystad Energy is an independent oil and gas consulting services and business intelligence data firm offering global databases, strategy consulting and research products.

Rystad Energy's headquarters are located in Oslo, Norway. Further presence has been established in London, New York, Houston, Stavanger, Moscow, Rio de Janeiro, Singapore, Bangalore, Tokyo and Dubai.