China plans a mammoth 450 GW of wind and solar in its deserts
Loz Blain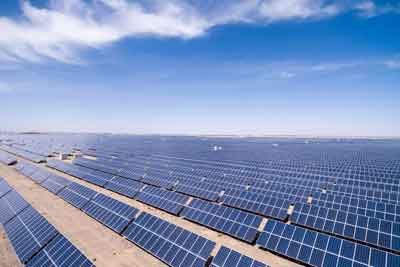 (Editor's Note: The impact that this will have on the price of silver is tremendous. - JSB)
The Gobi desert is already home to vast solar and wind resources, but China has renewable expansion plans totaling nearly half a terawatt in the works
China already dominates renewable energy production. Its installed capacity of around 895 GW in 2020 was more than the European Union, the USA and Australia combined. And while the world in general is accelerating its transition to renewable power, China is growing its capacity faster than anyone else as well. 
Now, according to Reuters, it's got a series of mammoth solar and wind projects in the pipeline that will expand its current capacity by nearly half a terawatt. 
"China is going to build the biggest scale of solar and wind power generation capacity on the Gobi and desert in history, at 450 GW," said He Lifeng, director of the National Development and Reform Commission (NDRC), on the sidelines of the National People's Congress in Beijing on Saturday.
About 100 GW of this new capacity is already under construction, adding to 306 GW of solar capacity and 328 GW of wind capacity that were already installed by the end of 2021. Chinese president Xi Jinping has pledged to get wind and solar capacity over 1.2 terawatts by 2030, as part of the country's plan to see its carbon emissions peak and begin to decline around the same time. 
Coal will continue to support China's energy grids for the time being. While some 43.5 percent of the country's total installed capacity – or more than a terawatt by last October – is now renewable, intermittency issues and capacity factors have kept the percentage of actual power that's generated by renewables closer to 26 percent, with most of the rest being coal-fired. Still, this compares favorably to other major economies, and it'll continue to grow steadily as these enormous planned resources come online. 
Source: Reuters

Loz has been one of our most versatile contributors since 2007, and has since proven himself as a photographer, videographer, presenter, producer and podcast engineer, as well as a senior features writer. Joining the team as a motorcycle specialist, he's covered just about everything for New Atlas, concentrating lately on eVTOLs, hydrogen, energy, aviation, audiovisual, weird stuff and things that go fast. 

Loz spent a remarkably unfocused eight years getting an attention-deficient arts degree from Melbourne Uni, pursuing more than 30 different areas of study across the humanities and sciences on a series of whims before settling on a Psych major, back in the days when this kind of behavior didn't spell eternal financial ruin. 

He worked in marketing, copywriting and communications during the dot-com boom, then as a business analyst and consultant in the software industry, then had a couple of adventurous bites at life as an international touring musician, first as a drummer, then as a singer in a successful a cappella band (Suade) and a dodgy comedy duo (Shonky Brothers), before coming on board full time with New Atlas as part of the core team.

Loz describes himself in the third person as an inch deep and a mile wide, broadly interested in people and things, addicted to the learning curve, a natural communicator, easily bored, and blessed with a good balance between technical understanding and weird, flowery, boundary-pushing creativity. 

He sees his work with New Atlas as a way to celebrate, connect with and challenge the people pushing humanity forward. A father of two young kids, he is currently hyperfocusing on yoga, guitar, his long-term romance with motorcycles, and badly-needed sleep.