COVID-19 Data Study: Ammunition Sales Continue to Soar in Response to Coronavirus Panic
Molly Carter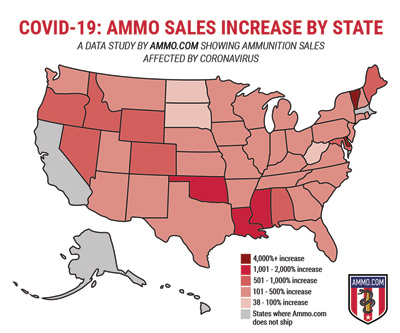 As the novel coronavirus (COVID-19) has spread across the United States, its impact can be seen in every community. Businesses and schools are closed, the stock market is exceptionally volatile, and store shelves are empty as the American public has scrambled to prepare for the worldwide pandemic and social distancing prescribed by the WHO and CDC.
While people have stockpiled toilet paper, hand sanitizer, and pantry essentials, they've also purchased ammunition at an unprecedented rate. Here at Ammo.com, our growth in sales directly correlates with the rise of COVID-19 and its spread across the country. Starting on February 23rd, sales began to increase as the search term "coronavirus" gained traction, according to Google Trends. This increase in sales has continued as follows:
700% increase in revenue


434% increase in transactions


320% increase in site traffic


27% increase in conversion rate


46% increase in average order value
Note: The figures above and below compare 29 days of sales, from February 23 to March 22, to the previous 29 day time period, January 24 to February 22, 2020. Time-permitting, these figures will be updated on an ongoing basis to keep the public abreast of market conditions.
State-by-State and Demographic Breakdown of Ammo Sale Increases Due to Coronavirus
The table below lists select American states by total sales volume from February 23rd onwards, and their corresponding percentage increase in sales volume when compared to the previous time period. Here is how to interpret that data:
State Ranking by Sales Volume: Displays the total sales volume on a state-by-state basis in column 1. (Not all states are listed.) And how much percentage-wise sales have increased to that particular state since February 23rd in column 2.


Most Popular Caliber by Sales Volume: Displays the most popular caliber based on sales volume in that state in column 3. And how much sales of that particular caliber have increased percentage-wise in that particular state since February 23rd. Columns 5 and 7 display the 2nd and 3rd most popular calibers based on sales volume in that state; columns 6 and 8 display how much the sale of those particular calibers has increased on a percentage basis.
Note: All increases with "null" signify that there were no previous sales recorded for either that state or for a particular caliber to customers in that state during the time period, thus making a comparison impossible.
The charts below break down the percentage of revenue and percentage of traffic which has come from different demographic cohorts according to Google Analytics. Mousing over individual days reveals the percentage of the total figure displayed in the chart:
New vs. returning visitors


Male vs. female visitors


Age group (18-24, 25-34, 35-44, 45-54, 55-64, 65+)
Note: These cohorts and charts are created by Google; the methodology for assigning visitors into certain cohorts is the sole responsibility of Google Analytics.
Scroll down for a comprehensive breakdown of the effect COVID-19 has had on our recent sales from February 23rd onwards.
Note: Due to city and state laws, Ammo.com does not ship ammunition to Alaska, Hawaii, Massachusetts, California, Washington, D.C., New York City, or Chicago. These jurisdictions, along with a handful of other states, have been excluded from the table above.
A Final Customer Note
Our team is working around the clock to try to keep up, as things are pretty wild in the ammo world right now. While we always strive to provide the best customer service and shopping experience possible, we're overwhelmed at the moment. Instead of same-day shipping, it's taking an average of two to three business days to completely process, package, and ship items. 
Thank you for your patience and understanding at this time of stress for all of us. We appreciate your support and will work tirelessly for your satisfaction.



Molly Carter grew up in a small steel town in western Pennsylvania, deep in the rust belt. She learned to shoot at a young age, plinking soda cans behind the chicken coop and, a few years later, groundhogs from the horse pasture. She spent much of her time at the family's hunting camp near the Allegheny National Forest, where summers drifted away as Molly explored the woods, hiking through the trees and skipping rocks in the creeks. It was here that she was taught how to hunt, primarily by her mother and grandmother, as well as field dress and preserve meat.

As she grew into her teen years, Molly developed a passion for philosophy. She scoured through treaties and essays, and found herself drawn to the rhetoric of the Enlightenment, particularly John Locke, whose ideas of natural law, the self, and the state of nature resonated with the values of her upbringing, namely hard work, self-sufficiency, and independence. Her passion for "love of wisdom" led her to pursue a degree in philosophy, where she focused her studies on social and political theory.

Through the values instilled in her by her family, her education, and her experience working in the criminal justice system, as an adult, Molly saw through the illusion of a beneficial big government that so many of her peers supported. She began to advocate for voter awareness, especially when it came to the importance of Constitutional rights and preservation of personal and civil liberties.

During this same period, Molly obtained her concealed carry permit and purchased her first CCW, a .380 Ruger LCP. After attending her first gun training course, Molly developed a zeal for helping women become comfortable and competent with firearms, and regularly takes novice women shooters to the range.

Molly's path eventually led her away from the traditional 9-to-5 and into the world of freelance writing, where she has created content for a wide range of clients, including Gander Outdoors, Wide Open Spaces, and Ammo.com. She's also active on Quora, and has achieved "most-viewed" writer in topics such as guns and firearms, concealed carry, and the Second Amendment.

Currently, Molly carries a Glock 43 chambered in 9mm, and her favorite piece to shoot is a Hawes Western Marshall single-action revolver in .357 Magnum.