Electric Vehicle And Battery Metal News - February 2019

Gregor Gregersen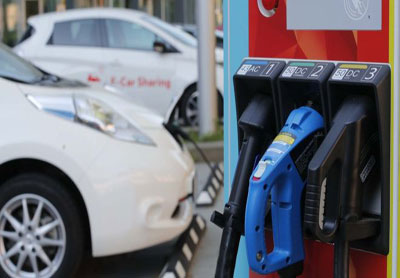 SBTV brings you the latest news from around the world on the Electric Vehicle Revolution and Battery Metals.
1)  Amazon Invests in Rivian, a Tesla Rival in Electric Vehicles 
Online retail giant is leading a $700 million investment in Rivian, a Michigan company that is developing a battery-powered pickup truck and an electric sport utility vehicle.
The deal is the latest example of how the auto industry is being reshaped by new technologies and nimble companies that have raced ahead of many traditional carmakers.
Amazon's investment is seen as a good way to enlarge their bet on the EV market without having to tool up a plant to find out if it will succeed.
2)  Volkswagen Boosts Electric-Car Target by 50%, Ventures Into Charging Infrastructure 
The VW brand alone will invest about 9 billion euros to roll out 20 electric models by 2025.
The electric car is seen as sustainable technology.
VW is also part of the Ionity consortium that will install fast-charging stations at 400 locations on European highways.
3)  President Macron to unveil a plan to give Europe's electric battery industry a jolt 
France will invest 700 million euros ($790 million) over the next five years into projects to boost the European electric car battery industry.
Aims to reduce its carmakers' reliance on dominant Asian battery suppliers.
Europe currently has no significant production of the battery packs' constituent cells.
4)  Honda Secures Battery Supply Contract with Battery Manufacturer CATL 
Honda secures battery cell supply contract for about 1 million electric vehicles with Contemporary Amperex Technology Co., Ltd. (CATL), one of the largest battery manufacturers in the world.
 As part of the new agreement, CATL is guaranteeing Honda a supply of "about 56 GWh of lithium-ion EV batteries before 2027." 
Honda first new standalone all-electric vehicle expected at the end of 2019.
5)  Inside Nornickel: the Drive to Target the Battery Metals Boom 
Nornickel is the world's largest producer of high-grade nickel, has begun to increase efficiency and evaluate new possibilities in order to take full advantage of the battery metals boom.
In 2017, battery sales surpassed one million globally, and it is predicted that they will meet 4.5 million units by 2020.
Metal consumption: Hybrids require the most metal, more nickel, more platinum-group metals (PMGs) and other ores. Charging stations will require more copper.
6) Simon Moores: US a 'Bystander' In Battery Arms Race 
Moores: "In the next decade the demand for lithium [used in the battery industry] is set to go up 9-times, cobalt is set to go up 6-times, nickel is set to go up 5 times, and graphite anode is set to go up 9 times."
The US controls zero mined supply for nickel, cobalt, and graphite. For lithium, it's one percent.
In terms of chemical capacity, it had zero percent capacity for nickel, cobalt, and graphite. For lithium, it's seven percent.
For battery capacity with the production of batteries, the US had 9% share in 2018. 
If you are new to our SBTV interview series, please consider to subscribe to the Silver Bullion Youtube Channel to be informed of more interview content.

 

During the Financial Crisis of 2008, as counterparty solvency fears paralyzed the financial world, it became apparent that physical bullion is a wealth refuge which is in very high demand during a crisis because it can address three big issues: Counterparty, Currency and Jurisdiction Risks.

Investment grade gold and silver is a liquid assets that does not need to be a liability on somebody else's balance sheet and can therefore be physically owned and isolated so that the owner need not be a creditor dependent on the solvency of financial institutions. [Counterparty Risk].

Bullion is also a natural hedge to inflating fiat currencies, which is a huge advantage in a time when governments are racing to print money. [Currency Risk]

However, throughout history, financially distressed governments have often nationalized or confiscated bullion, thereby creating the need for a jurisdictionally safe storage solution. [Jurisdiction Risk].

In 2009, in a financially interdependent world reeling from near-financial collapse, it was surprisingly difficult to find a storage solution that could credibly address these three systemic risks. A major problem was that the industry was dominated by large, Western based, financially interdependent companies whose ties would, by their very nature, expose them to systemic risks in ways that made us uncomfortable.

Hence in 2009 Silver Bullion was founded in Singapore to bring silver bullion to this city state and leverage the country's excellent jurisdictional protections.

As we grew, we have reasoned from basic principles to develop solid protections against the three systemic risks of Counterparty, Currency and Jurisdiction while providing excellent storage facilities, reliable bullion testing, optimal insurance and deep buy/sell liquidity.

By Gregor Gregersen
Founder of Silver Bullion & The Safe House