Inflation Into Falling Demand: US Consumer Is Tapped Out
Tyler Durden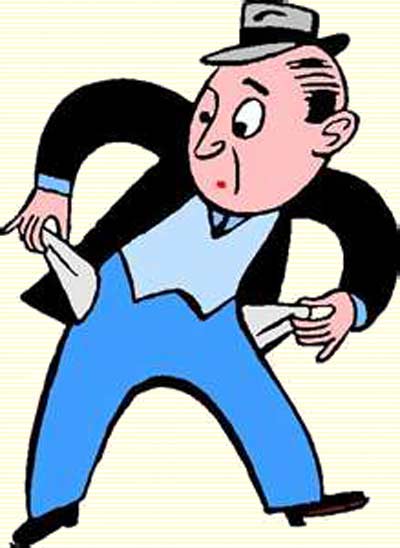 Without the fake demand generated by QE, where, exactly, will US economic demand come from?
As inflation sets in, it does so in tandem with the worst possible counterparty: sharply flagging consumer demand. Stagflation, writ large. When nobody's buying stuff but prices are going up anyway, and the Fed is raising rates, you have the bleakest macro environment of them all.
What a difference two months makes. Back in January, with jobs aplenty and Americans spending like drunken sailors (sending their savings rate to the lowest on record), average hourly earnings suddenly spiked, unleashing the February VIXplosion over concerns that the Fed is behind the curve and will be forced to hike much more aggressively.
Well, fast forward to today, when all those "green shoots" are either dead or on the verge, and after today's Personal Income and Spending report, it appears that it is stagflation that is once looming.
For those who missed it, yesterday we showed that that "Conference Board 'Plans To Buy' Homes, Autos, and Appliance have all plunged in the last three months: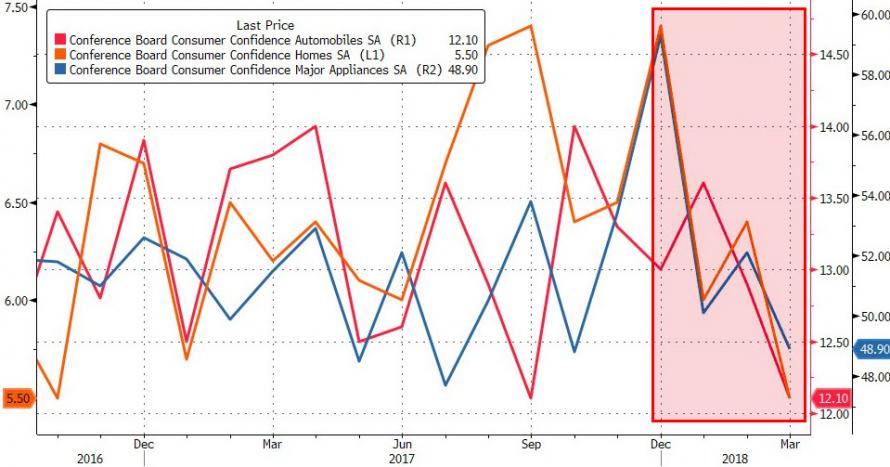 First, core PCE, the Fed's favorite inflation gauge, rose 1.6%YoY in February 2017; the biggest gain since April 2017. Meanwhile, the PCE deflator rose by 1.8%, coming hotter than expected, just as the cellular service price collapse falls out of the Y/Y data, sending annual inflation higher by 0.3%, and is set spook the next set of CPI data. In other words, inflation is here.
Then there is the US consumer's reaction, and while until just a few months back the US savings rate was at all time lows, it has since jumped to 3.4%, the highest since August 2017, as households are no longer spending more than they can afford, a theme we observed at the end of 2017. This also means that spending is lagging income for 3 consecutive months, as something appears to have spooked American consumers.



our mission:

to widen the scope of financial, economic and political information available to the professional investing public.
to skeptically examine and, where necessary, attack the flaccid institution that financial journalism has become.
to liberate oppressed knowledge.
to provide analysis uninhibited by political constraint.
to facilitate information's unending quest for freedom.
our method: pseudonymous speech...
Anonymity is a shield from the tyranny of the majority. it thus exemplifies the purpose behind the bill of rights, and of the first amendment in particular: to protect unpopular individuals from retaliation-- and their ideas from suppression-- at the hand of an intolerant society.

...responsibly used.

The right to remain anonymous may be abused when it shields fraudulent conduct. but political speech by its nature will sometimes have unpalatable consequences, and, in general, our society accords greater weight to the value of free speech than to the dangers of its misuse.

Though often maligned (typically by those frustrated by an inability to engage in ad hominem attacks) anonymous speech has a long and storied history in the united states. used by the likes of mark twain (aka samuel langhorne clemens) to criticize common ignorance, and perhaps most famously by alexander hamilton, james madison and john jay (aka publius) to write the federalist papers, we think ourselves in good company in using one or another nom de plume. particularly in light of an emerging trend against vocalizing public dissent in the united states, we believe in the critical importance of anonymity and its role in dissident speech. like the economist magazine, we also believe that keeping authorship anonymous moves the focus of discussion to the content of speech and away from the speaker- as it should be. we believe not only that you should be comfortable with anonymous speech in such an environment, but that you should be suspicious of any speech that isn't.