PPI: Told 'Ya So
Karl Denninger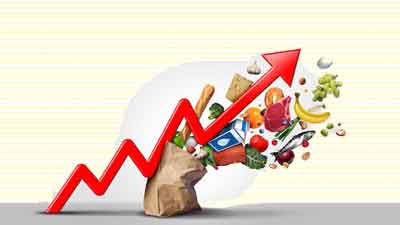 I told you this would happen.....
The index for final demand less foods, energy, and trade services rose 0.6 percent in January 2023, the largest advance since moving up 0.9 percent in March 2022. For the 12 months ended in January 2023, prices for final demand less foods, energy, and trade services increased 4.5 percent.
The days of "hide the sausage" fiscal policy irrevocably ended with the Ukraine/Russia conflict as a direct result of our, and Europe's, sanctioning actions.  It's gone and not coming back.
The Omnibus, a monster deficit spending bill that was passed in the last days of the previous Congress, is now starting to show up in the PPI.  Its not in the CPI yet and won't be for another year in full, so anyone who thinks inflation is "headed downward" has rocks in their head.  This is the classic double-spike move that occurs when you think you can blow more credit into the system instead of learning from the first inflationary spike that what you did was stupid and must not be repeated.
Even less food and energy the rise was 0.6% on the month in goods which is a 7.4% annualized rate.  Services were up 0.4% even into softening inflation in trade, transportation and warehousing, all goods-movement related, which is quite bad because taking those out that puts services inflation at the same 7.4% annualized rate.
What's even worse is that unprocessed goods on an intermediate basis were up 0.9% on the month when you remove food and energy, which is an 11.3% annual rate.  That's three to six months out from showing up in the CPI, but show up it will and there is no getting around it.
The Stage 1 numbers show the same sort of trend; the previous decline has reversed and this is time-related directly to the Omnibus, rising 0.8% on the last month.
No, inflation is not coming back down; the evidence is that are headed for the second spike caused directlyby Congress and the Biden Administration along with you, dear Americans, who continue to believe you can have something for nothing.
Mr. Denninger, recent author of the book Leverage: How Cheap Money Will Destroy the World, is the former CEO of MCSNet, a regional Chicago area networking and Internet company that operated from 1987 to 1998. MCSNet was proud to offer several "firsts" in the Internet Service space, including integral customer-specified spam filtering for all customers and the first virtual web server available to the general public. Mr. Denninger's other accomplishments include the design and construction of regional and national IP-based networks and development of electronic conferencing software reaching back to the 1980s.

He has been a full-time trader since 1998, author of The Market Ticker, a daily market commentary, and operator of TickerForum, an online trading community, both since 2007.

Mr. Denninger received the 2008 Reed Irvine Accuracy In Media Award for Grassroots Journalism for his coverage of the 2008 market meltdown.