How to Survive AI Mania
Greg Guenthner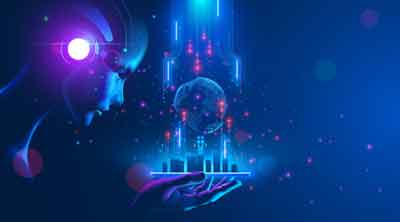 Artificial Intelligence has blossomed into a full blown mini-mania over the past few weeks.
The frothy action has launched several languishing stocks back into the stratosphere. Traders are gobbling up shares of every AI-adjacent stock they can find. The financial media are cranking out fantastical stories of a bold future filled with sentient chatbots able to write term papers for lazy students – and even pass the bar exam.
Growth speculators can't get enough of the hype. They're waking from their 2022 hibernation, ready to bet the farm on tech's next big thing.
It's all happening fast.
Perhaps too fast…
It's not that I expect investors to act rationally – especially when it comes to a shiny new tech industry. But I am surprised at the sheer speed of this mania unfolding before our very eyes following last year's rout that tore most tech-growth stocks to shreds.
How many dreams were shattered as Cathie Wood's ARK Innovation ETF (ARKK) lost 80% of its value?
How many crypto believers were forced to move back in with mom and dad when their favorite alt-coin imploded?
Yet here we are, watching these very same traders dust off their drained Robinhood accounts to buy AI stocks with both hands.
There's no question AI is having a moment.
But is it already a bubble?
That's the question we're trying to answer today.
It's difficult to say whether AI stocks are in a bubble, as bubbles are typically characterized by a rapid increase in asset prices followed by a sudden and steep drop. While AI and technology stocks have seen significant growth in recent years, it's unclear whether this growth will continue at the same pace, or whether it will eventually lead to a burst in prices.
Wait a minute. Go back and read the above paragraph one more time.
Does it seem a bit wishy-washy? Maybe even… robotic?
Well, that's because it was written by a chatbot. I pulled this paragraph from a ChatGPT response, where I asked if AI stocks are currently in a bubble.
Can a Chatbot Spot a Bubble?
I won't bore you with ChatGPT's full answer, because it is robotic and boring. Let's just say I'm not at all concerned about ChatGPT dominating the stock market anytime soon. In fact, we could probably gain more insight watching a few talking heads on cable news than reading the chatbot's canned jargon regarding the "variety of complex and dynamic factors" influencing AI stocks.
ChatGPT even slapped a disclaimer at the end of its response, urging me to "exercise caution and thoroughly research any investment before making a decision." No wonder the program was able to pass the bar exam (yes, this actually happened). Every answer it gave me feels like it was reviewed by a careful lawyer trying to keep his client out of trouble.
Ultimately, ChatGPT couldn't give me a clear answer regarding the AI bubble. But what about AI stocks?
Specifically, which AI stocks have the best chance to be long-term winners?
While ChatGPT could tell me some of the biggest players involved in the AI space – Alphabet (Google), Amazon, Microsoft, IBM, and NVIDIA – it offered no guesses on long-term stock market performance. And like any attorney worth his salt, it stayed away from uttering any of the names of the smaller, frothier stocks that have gained so much attention lately, since "they also come with greater risks, as they may not have the same level of resources or stability as larger, established companies."
Thanks, ChatGPT. Buyer beware!
Stock pickers can relax. No AI Warren Buffett is coming along to crush your returns. Not yet, anyway…
Riding the Wave
Since ChatGPT hasn't helped in our quest to profit from the AI bubble, I suppose it's up to us to figure it out.
Let's start with the big boys.
Microsoft has attracted a ton of attention after announcing Bing's partnership with ChatGPT. Some pundits even believe it could be a Google killer.
I'd pump the brakes on that claim. Yes, Alphabet stock is down about 13% since reporting earnings on Feb. 2. But this feels more like a knee-jerk reaction to the AI hype cycle. Heck, GOOG might be a decent bounce candidate should it find support near its year-to-date lows. Unless the broader market begins to turn sharply lower, I don't think GOOG will crater to new 52-week lows from here.
Plus, we shouldn't be thinking about AI as a "winner take all" game. Public interest is spiking right now, but we have many years left in this cycle if AI is truly going to become the next tech hot spot.
We can cast a wider net by grabbing shares of the Global X Robotics & Artificial Intelligence ETF (BOTZ).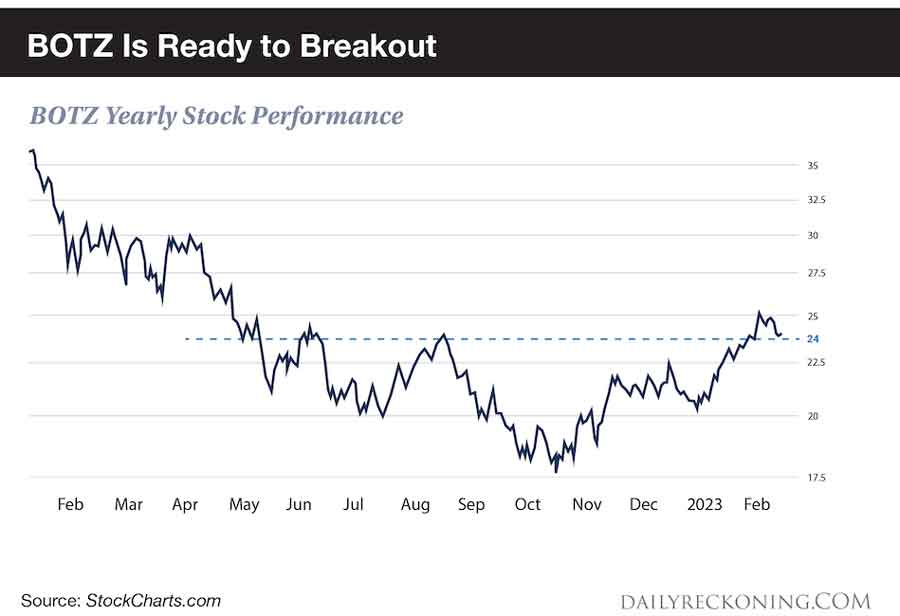 Not only will BOTZ potentially smooth out the waves in the frothy AI ocean – it's also attempting to break out of a multi-month bottom.
As for the more speculative plays that have doubled or more this year, such as C3.ai Inc. (AI), we have a couple of options to play the wild moves without losing our shirts.
First, we can buy much smaller positions. Small positions in speculative trades (usually a third or a fourth of the dollar amount you might put down on a normal position) allow us to set a wider stop to avoid some of the inevitable whipsaws that come with these big moves. We'll still have skin in the game to play an extended run, without worrying about a huge drawdown or nosebleed volatility paralyzing our portfolio.
You can also get tactical – if you can stomach it. Many of these speculative AI names have started off the trading week down double-digits. We should expect these hard resets after watching these stocks double and triple in a matter of weeks. But if you're a nimble trader, you can keep an eye on these names for any signs of a bounce and attempt to time your entry accordingly.
Easier said than done, of course. But it is possible to swing trade faster-moving names – as long as you don't get too greedy. I'll revisit this topic as it develops, along with any interesting emerging trades.
Let me know if you want any more topics covered by emailing me here.
When (or how) it all ends is anyone's guess. I have yet to find an AI program that knows if this mania will last another two days or two decades. We'll need to figure that out on our own in real time – no fancy computer programs required.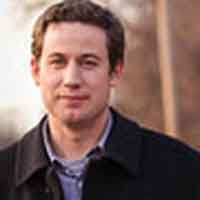 Greg Guenthner, CMT, is chief strategist at Forge Research Group. He has spent the better part of the past two decades developing long-term and short-term strategies with a single goal in mind: to help everyday investors generate outstanding returns and control their financial futures. Greg's charts, analysis, and insights have appeared in Marketwatch, Forbes, Yahoo Finance, and many other financial publications.