GoFundMe Seizes Millions In Trucker Protest Funds, Will Give It To Charities Instead
Tyler Durden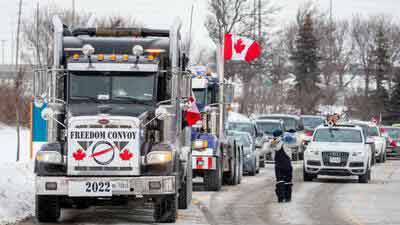 "Everyone who donated should do this..it costs GoFundme $15 per chargeback. ...Chargebacks occur when a donor contacts their card issuer to dispute the donation they made on GoFundMe This returns the money to the donor." 
Update (0725ET): After the radical leftists in San Francisco who operate GoFundMe seized millions of dollars from the Canadian "Freedom Convoy" and vowed to refund donations to donors (upon request) or disburse the funds to "credible charities" (like Black Lives Matter, Greenpeace, and Planned Parenthood Matter), the internet went absolutely mental Friday night about the crowd-sourcing platform's decision.  
Rebel News' Ezra Levant equated GoFundMe's decision as "stealing the money." He said the crowd-sourcing platform should have "automatically refunded its donors." 
Hours later, around 0200 ET Saturday, GoFundMe released another statement that said, "due to donor feedback, we are simplifying the process and automatically refunding donations."
The audacity that leftists at GoFundMe thought they could redistribute the money elsewhere is shocking. It is a wake-up call for freedom-loving people who band together to take their funding operations elsewhere (ever hear of BTC or ETH?). GoFundMe's poor judgment to only now automatically refund donors has shown their true liberal colors (this blunder has sparked a trust issue with the platform). 
All donors received this emailed statement early Saturday morning: 
We are automatically refunding your Freedom Convoy 2022 donation.

GoFundMe supports peaceful protests and we believe that was the intention of the Freedom Convoy 2022 fundraiser when it was first created. However, as a result of multiple discussions with local law enforcement and police reports of violence and other unlawful activity, the Freedom Convoy fundraiser has been removed from the GoFundMe platform.

The update we issued earlier enabled all donors to get a refund and outlined a plan to distribute remaining funds to verified charities selected by the Freedom Convoy organizers. However, due to donor feedback, we are simplifying the process for you. We will automatically refund your contributions directly - you do not need to submit a request. You can expect to see your refund within 7-10 business days.
GoFundMe also tweeted part of the statement. The tweet was immediately 'ratioed,' which means replies outnumbered retweets and likes, indicating the tweet was very unpopular. 
The world's richest person, Elon Musk, and a supporter of the truckers tweeted a meme comparing the amateur thieves robbing railcars in Los Angeles to "professional thieves" at GoFundMe. The tweet went out to 72 million of his followers. 
Here's what others are saying:
The damage is already done. It's only a matter of time before an alternative crowd-sourcing platform is discovered and or created. 
* * *
Despite initially refusing to cave to pressure from Canadian PM Justin Trudeau and his allies, GoFundMe announced late Friday evening that it had decided not to disburse any more money to the "Freedom Convoy" and its supporters gathered in Coutts, Alberta, and Ottawa. Users will now need to request a refund of their donation, or risk the possibility that the company will instead reroute it to an "approved" charity.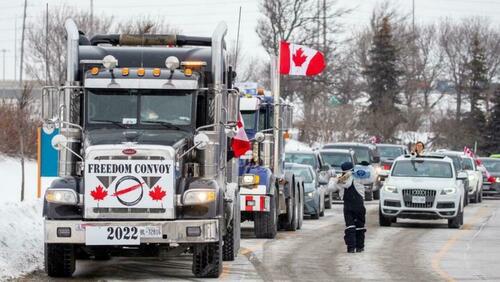 As Rebel News Editor-in-Chief Ezra Levant reported in a tweet, GoFundMe has decided to take - or some might say steal - the roughly CAD$9 million that was supposed to be used to pay for supplies like gas, food and other necessities for the truckers and instead dole that money out to charities of the company's choosing, unless donors fill out a request form.
Why the company has decided on this policy, instead of instating automatic refunds for donors, isn't clear. But as Levant joked, "what a windfall" for Black Lives Matter, Greenpeace and Planned Parenthood."
GoFundMe claimed that the fundraiser is in violation of "Term 8" of its terms of service clause, and also explained that it often works with local authorities to "make sure we have a detailed understanding...of facts on the ground."
The decision was made in order to ensure GoFundMe "remains a trusted platform".
Others wondered how any of this is legal.
The Ottawa police, meanwhile, insist that demonstrators in the city are acting "unlawfully". Several have been arrested (mostly for charges that may seem serious but actually aren't) for making threatening statements on social media and for other issues.
Ottawa Police have also warned that they will be collecting as much digital and financial information as they can from both the truckers and anybody who donates to support them. In a threatening statement, the police implied that supporters of the Freedom Convoy could face prosecution just for donating.
At this point, there's really nothing else for users to do but request their refund (so that GoFundMe doesn't simply take their money) and never donate to another fundraiser on the platform again.
Readers can find the link below:
After all, there are plenty of other crowd-raising platforms out there.

our mission:

to widen the scope of financial, economic and political information available to the professional investing public.
to skeptically examine and, where necessary, attack the flaccid institution that financial journalism has become.
to liberate oppressed knowledge.
to provide analysis uninhibited by political constraint.
to facilitate information's unending quest for freedom.
our method: pseudonymous speech...
Anonymity is a shield from the tyranny of the majority. it thus exemplifies the purpose behind the bill of rights, and of the first amendment in particular: to protect unpopular individuals from retaliation-- and their ideas from suppression-- at the hand of an intolerant society.

...responsibly used.

The right to remain anonymous may be abused when it shields fraudulent conduct. but political speech by its nature will sometimes have unpalatable consequences, and, in general, our society accords greater weight to the value of free speech than to the dangers of its misuse.

Though often maligned (typically by those frustrated by an inability to engage in ad hominem attacks) anonymous speech has a long and storied history in the united states. used by the likes of mark twain (aka samuel langhorne clemens) to criticize common ignorance, and perhaps most famously by alexander hamilton, james madison and john jay (aka publius) to write the federalist papers, we think ourselves in good company in using one or another nom de plume. particularly in light of an emerging trend against vocalizing public dissent in the united states, we believe in the critical importance of anonymity and its role in dissident speech. like the economist magazine, we also believe that keeping authorship anonymous moves the focus of discussion to the content of speech and away from the speaker- as it should be. we believe not only that you should be comfortable with anonymous speech in such an environment, but that you should be suspicious of any speech that isn't.