What Does The Ukraine War Mean For What The Fed Does Next: Here Is Goldman's Take
Tyler Durden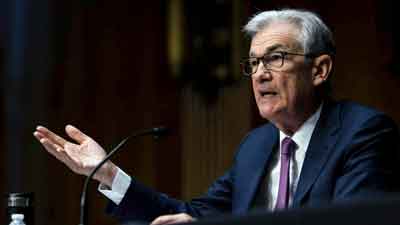 On one hand, the soaring commodity prices as a result of the Ukraine invasion presage much higher inflation for the foreseeable future (with JPMorgan recently predicting oil as high as $150 in the case of a full-blown military conflict). On the other hand, a sharp spike in prices would likely send global growth sliding and result in a fast and painful economic slowdown, if not recession. This happens as geopolitical risk as measured by Goldman, has exploded to only the 4th highest level in the past 40 years.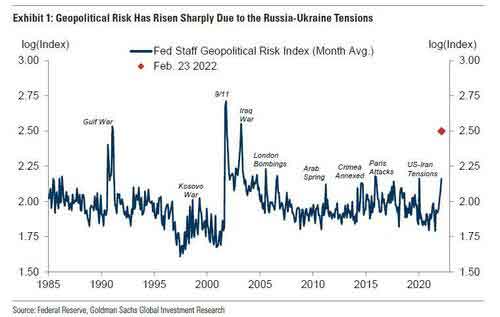 Those are the considerations facing western central banks - and the Fed - as they evaluate whether to push on with continued monetary tightening - to be sure, central banks are always leery of tightening financial conditions into a major global geopolitical conflict - or to relent at least modestly, especially if a global recession is one of the potential side-effects of the war in Ukraine.
In a note seeking to address these concerns, overnight Goldman's chief economist Jan Hatzius looks at the implications of the Russia-Ukraine conflict for the US economy and Fed policy, and writes that the silver lining of the conflict is that any direct effects on the US economy should be limited because trade links are weak and energy prices are likely to be affected far less in the US than in Europe. However, the surging price of oil is a big red flag. According to Goldman, a $10/bbl increase in the price of oil boosts US core inflation by 3.5% and headline inflation by 20bp, but lowers GDP growth by just under 0.1%. 
While that is certainly negative for inflation, (and growth), the impact via tighter financial conditions is the most unpredictable. The next chart shows that past geopolitical risk events have only rarely been followed by a meaningful tightening in US financial conditions, though it is hard to generalize to the current situation. As Goldman puts it, "a larger tightening in financial conditions and an increase in uncertainty facing businesses would further weigh on US growth."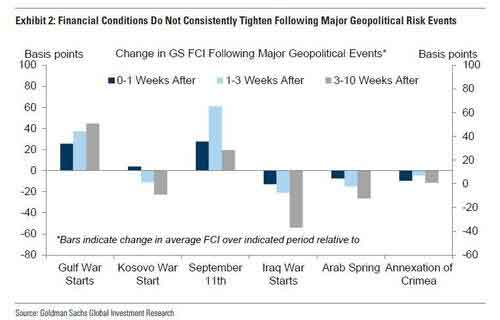 So what does that mean for the Fed?
Here we get the first admission from Goldman that Wall Street consensus estimates of as much as 7 (or more) rate hikes in 2022 may not materialize, with the bank writing that "the combination of upside inflation risk and downside growth risk has mixed implications for monetary policy. Historically, Fed officials have sometimes preferred to delay major policy decisions until uncertainty surrounding geopolitical risks diminished. In some cases, such as after September 11 or during the US-China trade war, the FOMC has cut the funds rate." Of course that is not an option with rates now at 0% and inflation, well... higher.
Having caveated the dovish case, however, Goldman then sticks to its hawkish guns, and notes that "the current situation is different from past episodes when geopolitical events led the Fed to delay tightening or ease because inflation risk has created a stronger and more urgent reason for the Fed to tighten today than existed in past episodes." And with some signs of "problematic wage-price dynamics emerging and near-term inflation expectations already high" , Hatzius notes that "further increases in commodity prices might be more worrisome than usual." As a result, while Goldman does not expect geopolitical risk to stop the FOMC from hiking steadily by 25bp at its upcoming meetings, "we do think that geopolitical uncertainty further lowers the odds of a 50bp hike in March."
In short, Goldman does not expect geopolitical risk to stop the FOMC from hiking by 25bp at its upcoming meetings. But Presidents Bostic, Daly, and Mester and Governor Bowman have cited geopolitical uncertainty as a downside risk to the economic outlook over the last week, and the bank suspects that some participants will see it as a compelling reason not to hike by 50bp in March.
For now, the market seems to agree and after hitting almost 100% earlier in the month, odds of a 50bps rate hike have since sunk to just 20%. Meanwhile, looking at the full year, traders are still confident that the Fed will somehow pull off at least 6 rate hikes for the full year without sending the economy into recession.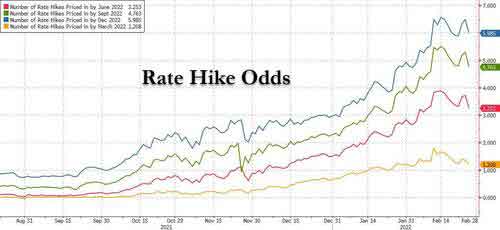 our mission:

to widen the scope of financial, economic and political information available to the professional investing public.
to skeptically examine and, where necessary, attack the flaccid institution that financial journalism has become.
to liberate oppressed knowledge.
to provide analysis uninhibited by political constraint.
to facilitate information's unending quest for freedom.
our method: pseudonymous speech...
Anonymity is a shield from the tyranny of the majority. it thus exemplifies the purpose behind the bill of rights, and of the first amendment in particular: to protect unpopular individuals from retaliation-- and their ideas from suppression-- at the hand of an intolerant society.

...responsibly used.

The right to remain anonymous may be abused when it shields fraudulent conduct. but political speech by its nature will sometimes have unpalatable consequences, and, in general, our society accords greater weight to the value of free speech than to the dangers of its misuse.

Though often maligned (typically by those frustrated by an inability to engage in ad hominem attacks) anonymous speech has a long and storied history in the united states. used by the likes of mark twain (aka samuel langhorne clemens) to criticize common ignorance, and perhaps most famously by alexander hamilton, james madison and john jay (aka publius) to write the federalist papers, we think ourselves in good company in using one or another nom de plume. particularly in light of an emerging trend against vocalizing public dissent in the united states, we believe in the critical importance of anonymity and its role in dissident speech. like the economist magazine, we also believe that keeping authorship anonymous moves the focus of discussion to the content of speech and away from the speaker- as it should be. we believe not only that you should be comfortable with anonymous speech in such an environment, but that you should be suspicious of any speech that isn't.