The Real Elephant in the Room... Debt 
Nell Sloane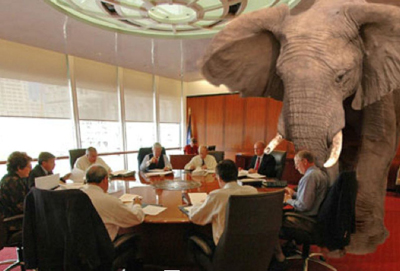 We decided to wait till the FOMC meeting to release this week's letter so that we could capture the most important event of the week. It's not that we didn't expect a few of the tech giant earnings would be painted with bullishness, but we felt maybe the earnings didn't really matter. Maybe all that mattered was the "Powell Put" which was made quite obvious by the monotonous speech he gave after the FOMC decision. It's amazing how quickly the FED has caved to the pressure laid out by both the bond market and #POTUS himself. Here are the bullet points as laid out from Zhedge:
Fed removes reference to further gradual rate increases

Fed says it plans to continue with current floor approach

Fed says it's prepared to adjust balance-sheet normalization

Fed reiterates federal funds target is primary policy tool

Fed says economic activity rising at solid rate, jobs strong

Fed says labor market strengthened, unemployment remained low

Fed says spending grew strongly, investment moderated

Fed says core and headline inflation remain near 2%

What is interesting about this recent about face by the Federal Reserve is that it is quite apparent the reality, the truth, that without central bank printing or QE, asset prices will indeed collapse and an economic calamity will assuredly ensue. This is something we have been banging the drum about for some years now and well today, we have confirmation. What it all means, how it will all transpire, we aren't quite sure. One thing is certain, if this indeed is the end of this hiking cycle, the following things would make perfect sense:

The dollar will go lower


The US bond yield curve will steepen dramatically


Gold will appreciate


Equities will rally


BTFD becomes the norm once again
All in all, the transparency of all that has been laid out is obvious, yet we also know there are many exogenous affects that cannot be quantified, such as geopolitical posturing, tariffs and of course war. The central banks cutting back will offer more of the continued global debt expansion and will do little to alleviate the real elephant in the room, that is debt itself.

 

Nell Marie Sloane has been in the commodity industry for nearly 30 years and co-owns and operates Capital Trading Group L.P. ("CTG") which is an investment firm specializing in trade execution and account management for commodity trading advisors (CTA's).