New battery design for electric cars would stack up to 1,000-km range
David Szondy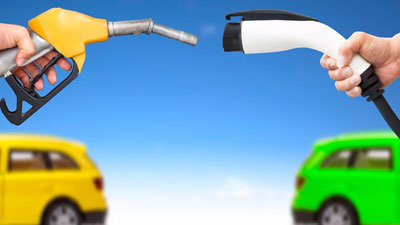 One of the big stumbling blocks preventing the wide scale acceptance of electric cars is dreaded range anxiety. With an average range of around 100 mi (161 km) per charge, all-electric vehicles still can't compete with more conventional cars – especially if lights, windscreen wipers, or air con are needed. To level the playing field a bit, Fraunhofer is working on a new battery design that could increase an electric car's range to 1,000 km (621 mi).
Electric cars don't have a single battery, but a collection of battery packs made of hundreds or thousands of individual battery cells that are packed in and wired together. These separate battery cells each require a housing as well as terminals, wiring, cables, and electronic monitors, which all combine to take up 50 percent of the space of a whole battery pack. Additionally, all those electrical connections sap away current through resistance.

EMBATT takes its cue from another electrical power source, the fuel cell. Fuel cells work by combining oxygen with a gas, like hydrogen or methane, across a permeable membrane, to generate electricity. One key component of such cells is what is called a bipolar plate. This plate covers both sides of the cell and has a number of functions, but its main purpose is to act as the electrodes to collect the electricity produced by the cell with one plate acting as the anode and the other as the cathode. 
Fraunhofer's idea is to replace the housings and individual connectors in the battery packs with similar plates. Instead of setting the battery cells next to each other, they would be stacked directly one on top of one other over a large area and covered by plates, which would carry the current across its surface. This would not only simplify the design, but greatly reduce resistance, making more electricity available more quickly. 
In the Fraunhofer design, this bipolar plate is in the form of a metallic tape that's coated on both sides with a powdered ceramic mixed with polymers and electrically conductive materials. The ceramic acts as an energy storage medium, with one side of the tape acting as the anode and the other as the cathode depending on the formulation of the coating. Fraunhofer says that this arrangement would allow for easy manufacturing and long service life. 
The upshot of all this is that electric cars could carry bigger batteries that don't takes up more space or add weight, giving cars a range of 1,000 km (621 mi) in the medium term. 
So far EMBATT has been confined to the laboratory, but the partners are working on scaling up the technology for installation in test vehicles by 2020.
Source: Fraunhofer

 

David Szondy is a freelance journalist, playwright, and general scribbler based in Seattle, Washington. A retired field archaeologist and university lecturer, he has a background in the history of science, technology, and medicine with a particular emphasis on aerospace, military, and cybernetic subjects. In addition, he is the author of a number of websites, four award-winning plays, a novel that has thankfully vanished from history, reviews, scholarly works ranging from industrial archaeology to law, and has worked as a feature writer for several international magazines. He has been a New Atlas contributor since 2011.