Solar power is the new "cool"
NZ Herald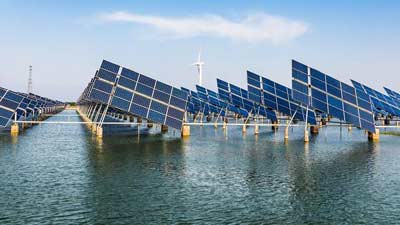 "Keeping up with the Joneses" just went solar.
It used to be that "keeping up with the Joneses" involved conspicuous consumption, often environmentally harmful.
Now it seems solar power is the new "must-have" – and it's powered by Google.
That's the trend emerging in the US, along with China the world's leading solar power exponents, though experts here say the same pattern is likely to apply in New Zealand.
So how come the sun has become so cool? It began with a study by Yale University by Dr Ken Gillingham(involving about 4000 solar photovoltaic systems in Connecticut in 2015) which showed peer pressure, not cost, was the single biggest driving factor in installing solar power.
Gillingham calls it "green envy": "People in California, Connecticut, regardless of where you are, do tend to be more likely to install solar if their neighbours do... it creates a different social norm. People become more comfortable with it."
One of the most interesting things about his research is that it shows "implicit peer pressure" is a more powerful stimulus than falling costs – with income levels the second-best predictive mechanism as to whether a household might go solar. A similar study by an energy intelligence company in California showed identical results.
It was so interesting, Google picked it up. Their Project Sunroof has been running for two years but last year, it rolled out its newest feature – embodying Dr Gillingham's research.
In the US, people can now have a street-level view of homes in their neighbourhood, with solar systems marked by a red dot on the roof.
Google engineer Carl Elkin started Project Sunroof as a part-time task in 2015 to map the world's solar potential. Google says of the project, which gives homeowners solar power cost and sunlight advice: "Google has always been a proponent of clean energy and solar power has been a central part of our vision. Over the past year, Project Sunroof has been helping homeowners explore whether they should go solar – offering estimates for over 43 million houses across all 50 states."
In New Zealand, HRV Solar offer a bespoke tool to measure the solar potential of people's roofs, called the Solar E-Valuator.
HRV Solar Programme Manager, Leon Hayward, who has worked on some large solar power projects in California in the past, says he won't be at all surprised to find peer pressure playing a role in the New Zealand market.
"In some ways, it is already here," he says, "but the fact the desirability of solar power has become so strong in the US suggests that trend will migrate here too."
However, that is not the only "cool" application for solar power. Take a look at this…a power plant shaped like a panda in China. It is designed not only for operational reasons but also to gain support from Chinese youth as the country moves away from its coal-burning dependency. Many more are planned.
And what about this: A floating solar power plant, the biggest in the world, also in China.
Solar power as an aspirational holiday destination is also seen at Finolhu Villas in the Maldives – where solar design is cleverly built into luxurious villas, proving such systems can be attractively incorporated.
The same is true of Taiwan's dragon-shaped national stadium which has nearly 9000 solar panels arranged in a shape like a dragon atop the stadium which, when not being used, sends extra power to the nearby community, meeting 80 per cent of their power needs.
There are also plenty of cool products which use the heat of the sun – like a solar tote bag to take to the beach, with the sun providing the energy to keep your drinks cool. There's a solar-powered fan which would have come in handy for the recent heat wave here.
A solar-powered barbecue can be used in areas of strong sunlight (no more gas bottles), a solar bike provides a third energy option along with muscle power and an electric battery and, perhaps coolest of all, an sunshade umbrella complete with solar panels – providing enough power for you to work from home (with a laptop and a wi-fi connection) or even at the beach.
While not all of these products may be available in New Zealand yet, Hayward says their very existence shows how much solar power is gaining traction.
New Zealand Media and Entertainment (NZME) is a result of bringing together three New Zealand media brands, APN NZ, The Radio Network (TRN) and GrabOne and unifying them under one overarching banner. The result is an organisation with a portfolio of radio, digital, e-commerce and print brands producing fantastic content, targeting New Zealand audiences.

NZME is all about audiences: New Zealand audiences who want perspective on what's going on in the world, and a window on what's coming next.

NZME is a leading New Zealand media and entertainment business that reaches 3.2 million kiwis*. Whether reading, listening, watching, our audience gets the content they want - where and when they want across digital, print, radio and on-demand video platforms.

Prime among these are iconic Kiwi brands such as The New Zealand Herald, Newstalk ZB, The Hits, ZM, WatchMe, and our e-commerce platform GrabOne. In all, we have a network of over 80 media brands, fronted by homegrown talent, that reach audiences the length and breadth of the country. For more information about these brands, please click here.

For an advertiser this presents opportunities to target both a mass Kiwi audience and specific customer segments within it – by time of day or by location, nationally, or locally via the NZME Local Network.