The Age of Intolerance: Cancel Culture's War on Free Speech
John W. Whitehead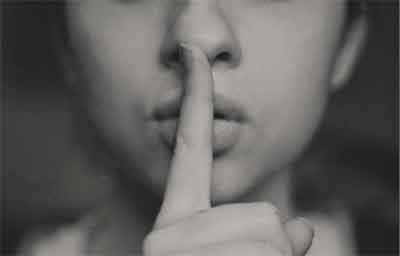 Cancel culture—political correctness amped up on steroids, the self-righteousness of a narcissistic age, and a mass-marketed pseudo-morality that is little more than fascism disguised as tolerance—has shifted us into an Age of Intolerance, policed by techno-censors, social media bullies, and government watchdogs.
Everything is now fair game for censorship if it can be construed as hateful, hurtful, bigoted or offensive provided that it runs counter to the established viewpoint.
In this way, the most controversial issues of our day—race, religion, sex, sexuality, politics, science, health, government corruption, police brutality, etc.—have become battlegrounds for those who claim to believe in freedom of speech but only when it favors the views and positions they support.
"Free speech for me but not for thee" is how my good friend and free speech purist Nat Hentoff used to sum up this double standard.
This tendency to censor, silence, delete, label as "hateful," and demonize viewpoints that run counter to the cultural elite is being embraced with a near-fanatical zealotry by a cult-like establishment that values conformity and group-think over individuality.
For instance, are you skeptical about the efficacy of the COVID-19 vaccines? Do you have concerns about the outcome of the 2020 presidential election? Do you subscribe to religious beliefs that shape your views on sexuality, marriage and gender? Do you, deliberately or inadvertently, engage in misgendering (identifying a person's gender incorrectly) or deadnaming (using the wrong pronouns or birth name for a transgender person)?
Say yes to any of those questions and then dare to voice those views in anything louder than a whisper and you might find yourself suspended on Twitter, shut out of Facebook, and banned across various social media platforms.
This authoritarian intolerance masquerading as tolerance, civility and love (what comedian George Carlin referred to as "fascism pretending to be manners") is the end result of a politically correct culture that has become radicalized, institutionalized and tyrannical.
In the past few years, for example, prominent social media voices have been censored, silenced and made to disappear from Facebook, Twitter, YouTube and Instagram for voicing ideas that were deemed politically incorrect, hateful, dangerous or conspiratorial.
Most recently, Twitter suspended conservative podcaster Matt Walsh for violating its hate speech policy by sharing his views about transgendered individuals. "The greatest female Jeopardy champion of all time is a man. The top female college swimmer is a man. The first female four star admiral in the Public Health Service is a man. Men have dominated female high school track and the female MMA circuit. The patriarchy wins in the end," Walsh tweeted on Dec. 30, 2021.
J.K. Rowling, author of the popular Harry Potter series, has found herself denounced as transphobic and widely shunned for daring to criticize efforts by transgender activists to erode the legal definition of sex and replace it with gender.
Ironically enough, Rowling's shunning included literal book burning. Yet as Ray Bradbury once warned, "There is more than one way to burn a book. And the world is full of people running about with lit matches."
Indeed, the First Amendment is going up in flames before our eyes, but those first sparks were lit long ago and have been fed by intolerance all along the political spectrum.
Consider some of the kinds of speech being targeted for censorship or outright elimination.
Offensive, politically incorrect and "unsafe" speech: Political correctness has resulted in the chilling of free speech and a growing hostility to those who exercise their rights to speak freely. Where this has become painfully evident is on college campuses, which have become hotbeds of student-led censorship, trigger warnings, microaggressions, and "red light" speech policies targeting anything that might cause someone to feel uncomfortable, unsafe or offended.
Hateful speech: Hate speech—speech that attacks a person or group on the basis of attributes such as gender, ethnic origin, religion, race, disability, or sexual orientation—is the primary candidate for online censorship. Corporate internet giants Google, Twitter and Facebook continue to re-define what kinds of speech will be permitted online and what will be deleted.
Dangerous, anti-government speech: As part of its ongoing war on "extremism," the government has partnered with the tech industry to counter online "propaganda" by terrorists hoping to recruit support or plan attacks. In this way, anyone who criticizes the government online can be considered an extremist and will have their content reported to government agencies for further investigation or deleted. In fact, the Justice Department is planning to form a new domestic terrorism unit to ferret out individuals "who seek to commit violent criminal acts in furtherance of domestic social or political goals." What this will mean is more surveillance, more pre-crime programs, and more targeting of individuals whose speech may qualify as "dangerous."
The upshot of all of this editing, parsing, banning and silencing is the emergence of a new language, what George Orwell referred to as Newspeak, which places the power to control language in the hands of the totalitarian state.
Under such a system, language becomes a weapon to change the way people think by changing the words they use.
The end result is mind control and a sleepwalking populace.
This mind control can take many forms, but the end result is an enslaved, compliant populace incapable of challenging tyranny.
We have allowed our fears—fear for our safety, fear of each other, fear of being labeled racist or hateful or prejudiced, etc.—to trump our freedom of speech and muzzle us far more effectively than any government edict could.
This is the tyranny of the majority against the minority marching in lockstep with technofascism.
Yet be warned: whatever we tolerate now—whatever we turn a blind eye to—whatever we rationalize when it is inflicted on others will eventually come back to imprison us, one and all.
At some point or another, depending on how the government and its corporate allies define what constitutes "hate" or "extremism, "we the people" might all be considered guilty of some thought crime or other.
In other words, as I make clear in my book Battlefield America: The War on the American People and in its fictional counterpart The Erik Blair Diaries, whatever powers you allow the government and its corporate operatives to claim now, for the sake of the greater good or because you like or trust those in charge, will eventually be abused and used against you by tyrants of your own making.
The police state could not ask for a better citizenry than one that carries out its own censorship, spying and policing.
You can help protect us from BIG TECH DE-PLATFORMING by joining our email list.
This is the single biggest way to ensure we can't be silenced for speaking out against censorship and corruption.
Plus, when you subscribe, you immediately receive TWO FREE TACTICAL REPORTS:
1. Four Ways The Elite Control You in a Crisis
2. How to Infiltrate the Elite and Take Your Power Back

John W. Whitehead is an attorney and author who has written, debated and practiced widely in the area of constitutional law and human rights. Whitehead's concern for the persecuted and oppressed led him, in 1982, to establish The Rutherford Institute, a nonprofit civil liberties and human rights organization whose international headquarters are located in Charlottesville, Virginia. Whitehead serves as the Institute's president and spokesperson, in addition to writing a weekly commentary that is posted on The Rutherford Institute's website (www.rutherford.org), as well being distributed to several hundred newspapers, and hosting a national public service radio campaign. Whitehead's aggressive, pioneering approach to civil liberties issues has earned him numerous accolades, including the Hungarian Medal of Freedom.

Whitehead has been the subject of numerous newspaper, magazine and television profiles, ranging from Gentleman's Quarterly to CBS' 60 Minutes. Articles by Whitehead have been printed in the New York Times, Los Angeles Times, the Washington Post and USA Today, among others.

Whitehead gained international renown as a result of his role as co-counsel in Paula Jones' sexual harassment lawsuit against President Clinton. Whitehead continues to speak out in defense of a woman's right to be free from sexual harassment and frequently comments on a variety of legal issues in the national media. He has been interviewed by the following national and international media (partial list): Crossfire, O'Reilly Factor, CNN Headline News, Larry King Live, Nightline, Dateline, The Today Show, Good Morning America, CBS Evening News, CBS This Morning, This Week with Sam and Cokie, Rivera Live, Burden of Proof, Late Edition with Wolf Blitzer, FOX News Sunday, Hardball, the New York Times, the Washington Post, the Wall Street Journal, USA Today, National Public Radio, BBC Newsnight, BBC Radio, British Sky "Tonight" and "Sunday," TF1 (French TV) and Greek national television.

The author of numerous books on a variety of legal and social issues, as well as pamphlets and brochures providing legal information to the general public, Whitehead has also written numerous magazine and journal articles. Whitehead's most recent books include Battlefield America: The War on the American People and A Government of Wolves: The Emerging American Police State. In addition, he wrote and directed the documentary video series Grasping for the Wind, as well as its companion book, which focus on key cultural events of the 20th Century. The series received two Silver World Medals at the New York Film and Video Festival and is now available on DVD.

Whitehead has filed numerous amicus briefs before the U.S. Supreme Court. He has also been co-counsel in several landmark Supreme Court cases as well. His law reviews have been published in Emory Law Journal, Pepperdine Law Review, Harvard Journal on Legislation, Washington and Lee Law Review, Cumberland Law Review, Tulsa Law Journal and the Temple University Civil Rights Law Review.

Born in 1946 in Tennessee, John W. Whitehead earned a Bachelor of Arts degree from the University of Arkansas in 1969 and a Juris Doctorate degree from the University of Arkansas School of Law in 1974. He served as an officer in the United States Army from 1969 to 1971.