What to Do if You're Already Wealthy?
Doug Casey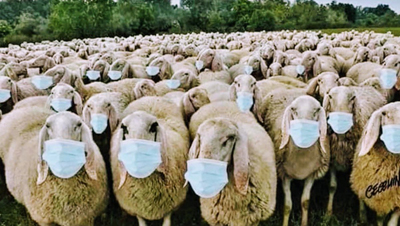 Perhaps you've already covered all the financial bases to your satisfaction. Quo vadis? I have several thoughts on the meaning of wealth. You may find some of them of value as prices of everything fluctuate radically in the years ahead.
First, recognize that wealth is a high moral good. Don't feel guilty about having it or about wanting more.
If you've already accumulated and deployed enough capital to allow you to jump off the golden treadmill, congratulations: Chances are high that you are an exceptional human being. I say that because the moral value of being wealthy is underrated. I don't mean that in a Calvinistic way, in that Calvin believed Yahweh rewarded the righteous by making them rich.
But I do believe that productive people – people who work hard to provide goods and services for others – definitely tend to be wealthier than unproductive people. They deserve to be. And since we don't live in a malevolent universe, people generally get what they deserve. So yes, wealth is definitely one indicator of moral excellence.
Sure, some wealthy people got that way by lying, cheating, and stealing. But they're exceptions. It's much easier to become wealthy if (in addition to having virtues like diligence, competence, and judgment) you are known to be truthful and honest. Those who automatically think ill of the rich are, at best, paranoid fools.
Put it this way: Rich people may lack some virtues, but they definitely have at least a few that made them rich. Poor people, on the other hand, will certainly lack some virtues, and they'll definitely have some vices that kept them poor.
I'm a fan of some aspects of George Gurdjieff, the late-19th to mid-20th century Russian mystic, who was also a merchant adventurer at some points in his colorful life. He said that anyone who successfully employed at least 20 other people must be considered at least partially enlightened and a type of guru.
That viewpoint always resonated with me. Self-made wealthy people may not be saints, mystics, intellectuals, or even especially thoughtful or moral. But they've proven they're better than the average bear in at least one important way: They can create and conserve wealth. And they've thereby eased everyone's path to further accomplishments.
Incredible Prospects on the Horizon
Second, figure out your purpose in having money.
Sure, money makes life easier. And it's nice how it enables you to assist people you like with material things. But I strongly suggest that you not take too short a view on this matter. Accelerating advances in medical science are not only lengthening human life expectancy, but new developments now in the works have the potential to vastly improve your capability and health as well.
Is it possible to live to age 200, with all the wealth, knowledge, and wisdom that implies, while maintaining the body of a 30-year-old? Not yet. But the prospect is on the horizon. It will, however, be available only to those who can afford it.
Ray Kurzweil makes a case that the Singularity is near, and I buy his reasoning. It would be tragic if anyone frittered away his wealth, thinking he wouldn't live very long, and then succumbed to a self-fulfilling prophecy, not because of medical difficulties, but because of financial difficulties.
Third, don't give your money to charity.
Entirely apart from showing a lack of both imagination and foresight, it's often a complete waste of good money, pure and simple. Contrary to popular opinion, it rarely does any lasting good; it often does great harm. The whole concept of charitable giving and institutional charity is corrupt and desperately in need of a complete rethinking.
I know that's a shocking point of view for most people. You might want to read this piece for a full explanation.
Divide Your Wealth Wisely
Fourth, if you do care about posterity (who knows, you might be reincarnated…) and on the chance you don't make it to the Singularity, carefully consider how to dispose of your estate.
For one thing, there's no reason to automatically leave anything to your children – unless they deserve it. The notion that someone should inherit your money just because he shares your genes is flawed and thoughtless.
The example of Marcus Aurelius leaving the Roman Empire to his worthless son, Commodus, should be instructive. Wealth should be left to someone who is most capable of increasing it – at least if you want to benefit humanity in general. And yes, I'm quite aware that humanity in general may deserve absolutely nothing.
At a minimum, consider that memes are far more important than genes. It's wiser, therefore, to leave your wealth only to individuals (related to you or not) who will carry forth values you hold dear, and who are worthy of the wealth. If nothing else, make sure you disinherit the government.
Also consider that dividing wealth dissipates it and generally makes it less useful. If you have $1 million, you could leave $1,000 to 1,000 people. But, apart from the fact that it's unlikely anyone knows 1,000 worthy people, that much money is only enough for a modest vacation or a few baubles.
The larger the pool of capital, the more ways it can be used, the more creative power it has, and the more likely it will be conserved and used creatively. I favor the Roman system, in which one could adopt children of any age – but always after you could see what their character was. You might want to do that if your own kids don't make the grade.
The Bottom Line
If you want serious money, you have to get serious about money. You need to understand these fundamentals and never forget them. Don't let all the garbage reported in the financial media you read, see, or hear confuse you about what money really is. A final word of advice: Don't consume more than you make: save! Don't spend: invest!
Regards,

Doug Casey
Founder, Casey Research
Want more stories like this one?
Casey Daily Dispatch will point you to today's top moneymaking opportunities and prepare you for the hidden dangers in the markets.

 





As the impetus behind the International Man project, Doug Casey is an American-born free market economist, best-selling financial author, and international investor and entrepreneur. He is the founder and chairman of Casey Research, a provider of subscription financial analysis about specific market verticals that he has focused his investing career around, including natural resources/metals/mining, energy, commodities, and technology.

Since 1979, he has written, and later co-written, the monthly metals and mining focused investment newsletter, The International Speculator. He also contributes to other newsletters, including The Casey Report, a geopolitically oriented publication.

Doug Casey is a highly respected author, publisher and professional investor who graduated from Georgetown University in 1968.

Doug literally wrote the book on profiting from periods of economic turmoil: his book, Crisis Investing, spent multiple weeks as #1 on the New York Times bestseller list and became the best-selling financial book of 1980 with 438,640 copies sold; surpassing big-caliber names, like Free to Choose by Milton Friedman, The Real War by Richard Nixon, and Cosmos by Carl Sagan.

Then Doug broke the record with his next book, Strategic Investing, by receiving the largest advance ever paid for a financial book at the time. Interestingly enough, Doug's book, The International Man, was the most sold book in the history of Rhodesia.

He has been a featured guest on hundreds of radio and TV shows, including David Letterman, Merv Griffin, Charlie Rose, Phil Donahue, Regis Philbin, Maury Povich, NBC News and CNN; and has been the topic of numerous features in periodicals such as Time, Forbes, People, and the Washington Post.

Doug, who divides his time between homes in Aspen, Colorado; Auckland, New Zealand; and Salta, Argentina, has written newsletters and alert services for sophisticated investors for over 28 years. Doug has lived in 10 countries and visited over 175.

In addition to having served as a trustee on the Board of Governors of Washington College and Northwoods University, Doug has been a director and advisor to nine different financial corporations.

Doug is widely respected as one of the preeminent authorities on "rational speculation," especially in the high-potential natural resource sector.