The Fed Speaks Out of Both Sides of Its Mouth
Dennis Slothower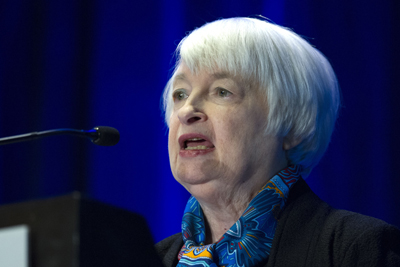 A number of Federal Reserve policymakers were marched out this week to give opinions about monetary policies following the most recent action of the Fed.
New York Fed Chief William Dudley argued in a speech that he is worried that the jobless rate will fall too far, causing a tight labor market and forcing inflation higher. Dudley believes the Fed should continue to raise interest rates. His talk caused the U.S. dollar to rally, undercutting the oil market.
Chicago Fed president Charles Evans delivered a more dovish outlook, arguing the Fed should hold off further rate hikes until the end of the year.
Boston Fed president Eric Rosengren raised the issue that "monetary policy is less capable of offsetting negative shocks when rates are already low", implying the Fed wants higher rates, so that when a recession does develop it has room to lower them again.
Right after the Fed raised interest rates, Goldman Sachs suggested the Fed will hold tight in September and not raise rates but will instead begin tapering its balance sheet as it announced and wait until this December before raising them again.
Consequently, the CME now gives the probabilities of a rate hike in September only a 12.8% chance and a 40.3% chance in December.
Between four rate hikes since December 2015 and plunging oil prices, coupled with sinking commercial and industrial loans fast approaching zero, we may start to see evidence of an emerging recession develop by the third or fourth quarters.
Certainly, the Citigroup Macro Economic Surprise Index is warning us a very big surprise is coming our way!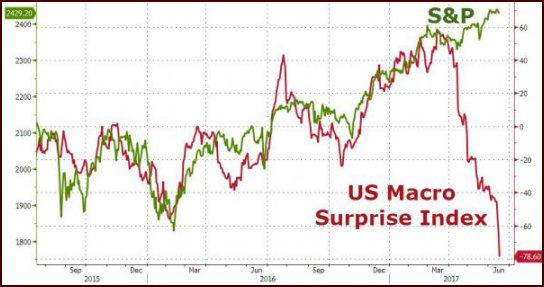 What this index is revealing is that while economists are adjusting expectations downward, the data has been coming in far worse and at a faster pace, while the stock market isn't adjusting for it. When the money supply is plunging, the economy is going to contract and I figure with another rate hike this disparity is only going to get worse.
Mixed Market as Senate Delivers Health Bill
The stock market traded basically flat towards the end of the week, which is a bit of surprise given the announcement of the long-awaited health care bill. (Buy the rumor, sell the facts?)
Lawmakers released a "discussion draft" of the long-awaited health care bill aimed at repealing and replacing Obamacare.
The senators will now have a handful of days to discuss the bill and decide whether to support or vote against the bill. Naturally, the Democrats have blasted the bill, so the question is whether McConnell can get enough Republicans on board with so little elbow room, as he can only lose two Republicans and still pass the bill.
Four conservative Republican senators announced Thursday they oppose the bill in its current version as written. Conservative Senators Rand Paul of Kentucky, Ron Johnson of Wisconsin, Ted Cruz of Texas, and Mike Lee of Utah appear to be politically posturing themselves to bargain makers — so we'll see where this goes before the 4th of July.
Oil prices are now down -26% YTD on the Federal Reserve's three rate hikes. On Thursday, the lows of last November of $42.20 were breached, suggesting we may yet see a test of the $39.19 lows of August 2016 soon.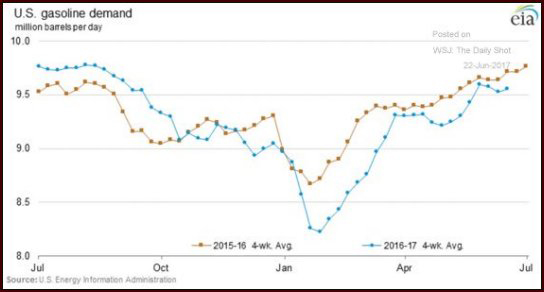 There are two points that investors need to observe. First, the 2016-2017 demand for gasoline at the beginning of the year began to trail the demand for gasoline in the 2015-2016 time period. I think this is directly related to Obamacare health insurance premium increases at the beginning of the new year and tax penalties that went into effect.
Secondly, notice the seasonal cycle that is so clearly represented here again. The seasonal cycle bottoms in late January and peaks after the 4th of July, with demand falling in the cooler months. As oil prices slide in the winter months, volatility picks up and the stock market becomes vulnerable, impacting the economy. This is why we pay close attention to oil prices and its seasonal cycles.
Higher interest rates with falling oil prices are causing investors to jump into government bonds.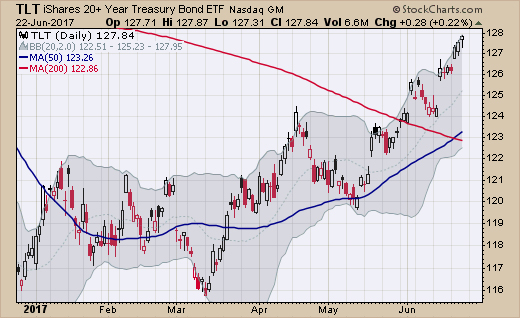 With the frustration of the GOP not being able to get any of the fiscal bills passed but the Fed moving aggressively towards tightening, investors have been moving into U.S. Treasury Bonds.
Speaking of volatility, historically, the Volatility Index (VIX) tends to bottom at the end of June, with a large pick-up after the 4th of July.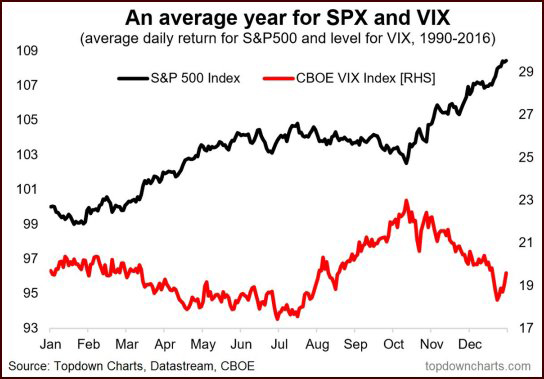 What this illustrates is a historical pattern of volatility risk picking up in the VIX after the 4th of July through mid-October.
Investors should take this risk warning very seriously this year, given the highly overbought state of equities.
To your wealth,

Dennis Slothower
Editor, Wall Street Underground Profits
Over the past several years, it's become increasingly clear how important it is to have a fresh perspective on the geopolitical events of the day… along with specific advice on how those events will affect the stock market.Dennis Slothower Headshot

Dennis Slothower has been leading a small but profitable group of investors to some extraordinary profits in both good markets in bad over the course of a 38+ year investment career, starting a stock broker in 1979.

His name is Dennis Slothower, and readers of his advisory services have been able to pocket some remarkable gains since their inception.

Just how have Dennis and his readers been able to realize such extraordinary profits – in both good markets and bad – on a consistent basis?

The answer lies in the methodology Dennis uses every single day. Dennis' "Stealth Stocks" system is designed to identify those companies that make money… and whose stock is about to move dramatically upward. He's designed these macro and technical systems himself and perfected them over decades of investing his own money.

But perhaps even more importantly, Dennis also is an absolute master at taking into account how world news – the true "market-moving events" – will impact each and every investment in his trading portfolio. No one else does this any better than Dennis Slothower… and Dennis has been doing it for years. Dennis shows you how to profit from significant events all over the world.

In fact, in 2011 Dennis' Stealth Stocks Daily Alert was named the top performer by Hulbert Financial Digest for avoiding the Crash of 2008. He writes that advisory letter every single market day. MarketWatch has said he has a "quotably savage cynical view of financial markets."