Derivatives And Lying - Two Art Forms That Go Hand In Hand
Jim Sinclair

"Oh what a tangled web we weave, when first we practice to deceive."--Sir Walter Scott
You can play any financial game in a world developing in the global condition of Authoritarian Free Enterprise. Businesses are predators that seek to give the least at the highest price and lowest quality that the market will accept. Products are hyped for months that turn out not to work as expected, or the price is reduced only a few short weeks after the hyped ones have been hosed. How cool is it to overpay for an inferior good?
The public is also to blame. Today are investors willing to pay a proper commission to a human being for a good execution of an order and for the margin crazies a small warning as they come within a hair's breathe of a margin call?
Lying is no longer a character flaw. It is an art.
So one day just prior to 1990 it was discovered that if one computer was to make both sides of a trade and pass those trades out to two or more separate but same party, transactions in the billions could be created from $250.
The game will work as long as the same computer dissolves the trade by passing out to the other parties, who are supposed to be different but are in truth the same, the closing transaction simultaneously. Put them on at once and take them off at once. This is how the over the counter derivative was born.
Enron came along and invented 2000 straw partnerships. You might ask yourself why. Unfortunately some financial contractors inadvertently destroyed important documents. My wager is they were the trade records of the 2000 straw partnerships.
If there is a repeat of this, look for 500,000 straw entities, not a piddling 2000 as in the Enron case. Every amoral financial travesty grows and grows in the world dominated by the corporations who do not give a flying F about any member of the public other than the board of directors and themselves, if that goes even beyond themselves.
All of this goes along just dandy while prosperity is king and the almighty buck decides what is right. This is a period when the person who wins at life is that person who when the ends comes has the most toys, yachts, club memberships, custom made everything and maybe even a collection of husbands and/or wives.
Then all of sudden this generations of building mountains of exotic financial transaction that are considered to be money which results in a shadow and shadowy banking system that competes with the already shadowy establishment banking system and globally politicized central banks starts to titter.
As in any panic publicly seen or concealed, there is a rush to get the money. The lender stops lending to the borrower because the lender knows the collateral is worthless.
The derivative market is built on the considered worthiness of unworthy assets. Sure there are those who have acted in good faith, really believing that the over the counter derivative market has sound basis.
What those trusting souls fail to understand is that the foundational transactions that have given birth to this so called market are down right FRAUDULENT.
As the $20 trillion of credit and default over the counter derivatives begin to unwind they in fact cannot unwind because there is no one computer to match up the simultaneous trades and remove them harmlessly. This is what the spin phrase of "a loss of control in the back offices" means.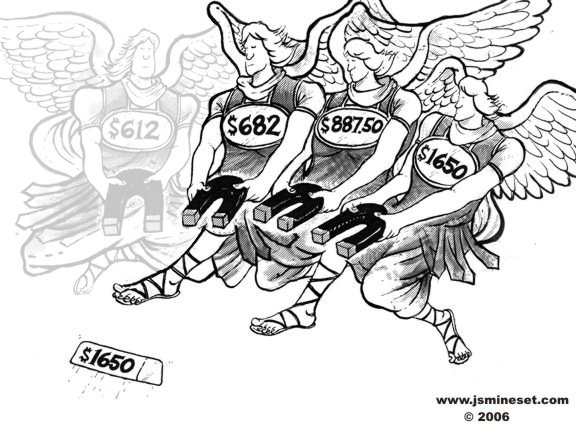 This is why I have said emphatically that a change in interest rates, no matter how fast or significant, an explosion of international liquidity, and all central banks working in accord cannot change the fact that the total mountain of garbage paper in size of over $30 trillion is all falling down. This is the ultimate case of the King has no clothes on.
This is why I have shut up over interim market moves. This is why I have not given you support and resistance in gold. Trader Dan has spoken to the traders. Monty has spoken to those that seek impeccable fundamental reasoning.
I have said one thing. Gold will go to and through all the Angels. Gold is going to and perhaps through $1650. I have warned against margin because the moves will be so significant that you need only a little to insure a lot.