"We Don't Think It's Time To Panic Yet" As Heavy-Duty Truck Orders Plummet
Tyler Durden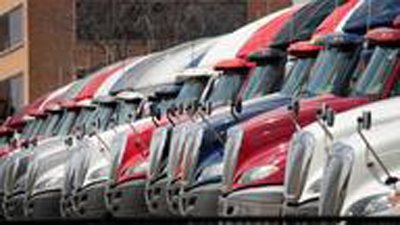 One of the charts that has kept deflationists asleep at night for the past two years and provided cover to the Fed it its tightening strategy was the one below showing the exponential surge in transportation prices as a result of an acute scarcity of truck drivers which has sent trucking prices soaring, and led to a historic spike in Class 8 truck orders as supply scrambles to keep up with demand (much of which is the result of businesses rushing to front-load trade ahead of even higher tariffs with China).
And yet, all good - or bad, depending on your perception - things come to an end, and last week ACT Research reported November preliminary North American Class 8 orders of 27.9K units (26.8K, seasonally adjusted), which was well below most forecasts heading into the release.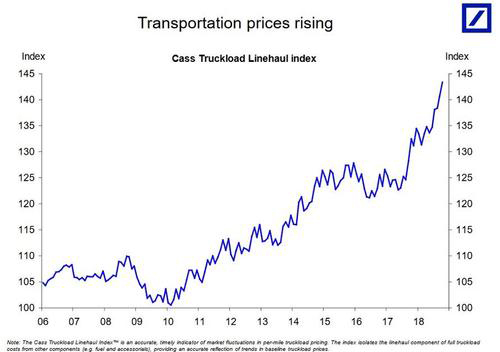 The total number of orders was down 14.5% from the same month a year ago and off 35.9% from October, when orders reached 43,600. It was the first drop in Class 8 orders this year, falling to the lowest level in 14 months and providing a fresh sign the North American trucking market is cooling down.
As a result, after 13 consecutive months of 30K-plus orders, the streak finally came to an end in November whose decline capped a more than a year-long run of historic growth in manufacturers' orders that came as U.S. companies scrambled to find the freight capacity to meet surging economic demand and trucking companies raced to get new trucks on the road.
"Truck demand has peaked and will start to wane," said Steve Tam, vice president for ACT.
Commenting on the unexpected sharp drop, BMO analyst Joel Tiss said that while "there is no doubt that freight and freight-rate growth have slowed we do not think that it is time to panic just yet."
To be sure, with Class 8 backlog still above 300K units, approximately 10 months of production is already spoken for. Furthermore, the recent buying spree produced 468,600 new truck orders in the first 11 months of this year, 81% more than the same period in 2017, translating to a 511.2K annual rate. The frenzied production has pushed backlogs at truck-equipment makers like Paccar, Navistar and engine maker Cummins deep into next year.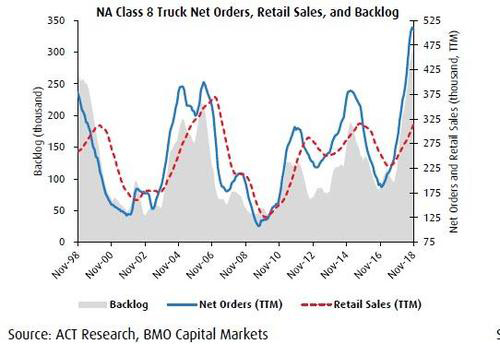 According to BMO, the prevailing thought is that dealers have been preparing for strong vehicle demand in 2019: "We believe that, as manufacturers' available build slots become further extended, it is putting pressure on customers to lock-in 2019 availability" BMO's Tiss said, however as he countered, "after the recent string of record order months, it is reasonable that November orders cooled."
"The slowdown was inevitable," ACT's  Tam said, and sure enough the broader freight trucking market also is slowing.
Don Ake, vice president at freight-equipment research group FTR, said fleets are taking "a breather after an unprecedented five-month period." FTR estimated November orders for new Class 8 trucks at 27,500.
Indeed, demand declined at a double-digit percentage pace in November from a year ago for van, flatbed and refrigerated trucks, according to online freight marketplace DAT Solutions LLC.
Yet what is surprising, is that the months of October through December typically are among the strongest for new big-rig orders, Ake said, but it appears seasonal patterns were turned around as fleets pulled forward their orders to frontrun the escalation in the US trade war with China. "It's flipping the thing on its head," he said.
What happens next?
According to BMO, one of the most important metrics to monitor will be cancellations. And although gross cancellations have risen relatively precipitously, the cancellation rate as a percentage of trailing 12-month orders remains slightly below 10%. In addition, the cancellation rate as a percent of the backlog reached 3.5% last month, not much higher than the average rate of 2.4%.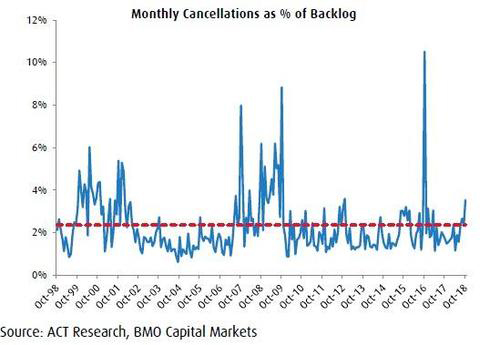 That said, investors have certainly taken notice of the uptick in cancellations, sending trucking stocks sharply lower in recent weeks; yet while it is certainly not a positive, the numbers may not tell the whole picture according to BMO which remains optimistic on the sector: "It is likely that customers have been switching build slots given how far out orders are being placed, which can count toward cancellations. In addition, we have heard from OEMs that stricter cancellation policies are being enforced compared with previous cycles."
Not everyone is as upbeat: last week UBS analysts downgraded trucking bellwethers Knight-Swift and Werner Enterprises and truck-rail intermodal provider Hub Group on concern over a softening freight market. "The peak season tightening we had anticipated in late October and November has been more muted than we expected."
The silver linined, according to ACT's Tam, is that slowing demand for trucking services and new rigs will enable capacity to stretch to meet demand. "The number of trucks out there in the fleet will start to normalize and return to a balanced state, which is really where things run well," he said.
Perhaps this optimistic view is warranted, although a far bigger risk is what happens to end demand for heavy duty trucks if trade between the US and China is indeed about to hit a brick wall. As we noted earlier today, the latest Chinese trade data was downright ugly, with growth tumbling to the lowest level in over a year, and missing expectations widely, while Chinese imports from the US finally collapsed, dropping 25% in November Y/Y.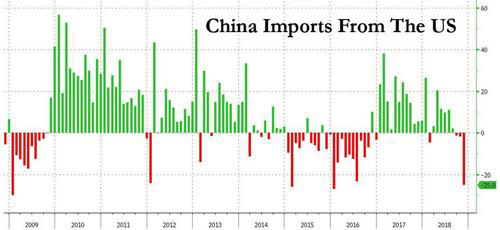 And with the comparable plunge in Chinese exports to the US only a matter of time, BMO's assessment that "it's not time to panic just yet" may prove to have been painfully optimistic in just a few months time.

our mission:

to widen the scope of financial, economic and political information available to the professional investing public.
to skeptically examine and, where necessary, attack the flaccid institution that financial journalism has become.
to liberate oppressed knowledge.
to provide analysis uninhibited by political constraint.
to facilitate information's unending quest for freedom.
our method: pseudonymous speech...
Anonymity is a shield from the tyranny of the majority. it thus exemplifies the purpose behind the bill of rights, and of the first amendment in particular: to protect unpopular individuals from retaliation-- and their ideas from suppression-- at the hand of an intolerant society.

...responsibly used.

The right to remain anonymous may be abused when it shields fraudulent conduct. but political speech by its nature will sometimes have unpalatable consequences, and, in general, our society accords greater weight to the value of free speech than to the dangers of its misuse.

Though often maligned (typically by those frustrated by an inability to engage in ad hominem attacks) anonymous speech has a long and storied history in the united states. used by the likes of mark twain (aka samuel langhorne clemens) to criticize common ignorance, and perhaps most famously by alexander hamilton, james madison and john jay (aka publius) to write the federalist papers, we think ourselves in good company in using one or another nom de plume. particularly in light of an emerging trend against vocalizing public dissent in the united states, we believe in the critical importance of anonymity and its role in dissident speech. like the economist magazine, we also believe that keeping authorship anonymous moves the focus of discussion to the content of speech and away from the speaker- as it should be. we believe not only that you should be comfortable with anonymous speech in such an environment, but that you should be suspicious of any speech that isn't.