Plunder Capitalism
Paul Craig Robert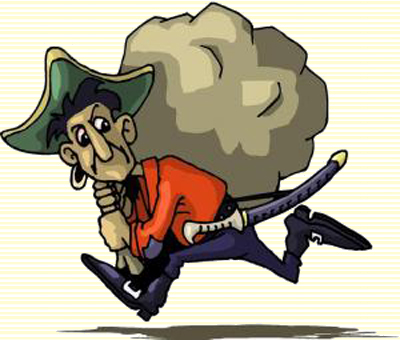 I deplore the tax cut that has passed Congress. It is not an economic policy tax cut, and it has nothing whatsoever to do with supply-side economics. The entire purpose is to raise equity prices by providing equity owners with more capital gains and dividends. In other words, it is legislation that makes equity owners richer, thus further polarizing society into a vast arena of poverty and near-poverty and the One Percent, or more precisely a fraction of the One Percent wallowing in billions of dollars. Unless our rulers can continue to control the explanations, the tax cut edges us closer to revolution resulting from complete distrust of government.
The current tax legislation drops the corporate tax rate to 20%. This means that global corporations registered in the US will be taxed at a lower income tax rate than a licensed practical nurse making $50,000 per year. The nurse, if single, faces in 2017 a 25% marginal tax rate on all income over $37,950.
A single person is taxed at a rate of 33% on all income above $191,651. 33% was the top tax rate extracted from medieval serfs, and approaches the tax rate on US 19th century slaves. Such an upper middle class income as $191,651 sounds extraordinary to most Americans, but it is so far from the multi-million dollar annual incomes of the rich as to be invisible. In America, it is the shrinking middle and upper middle class incomes that bear the burden of income taxation. The rich with their capital gains from their equity holdings are taxed at 15%.
Even single individuals who earn between $1 and $9,325 are taxed at 10% on their pittance.
The neoliberal economists who are the shills for the rich, Wall Street, and the Banks-Too-Big-Too-Fail claim, erroneously, that by cutting the corporate income tax rate to 20% all sorts of offshored profits will be brought back to the US and lead to a booming economy and higher wages. This is absolute total nonsense. The money won't come back, because it is invested abroad where labor costs are lower, if invested at all instead of buying back the corporation's stock or buying other existing companies. After 20 years of offshoring US manufacturing and professional tradable skills and the incomes associated with the jobs, who is going to invest in America? The American population has no income with which to purchase the goods and services from new investment, and the American population's credit cards are maxed out.
All that is going to happen is that Wall Street will calculate the lower tax rate into a higher equity price. Wall Street can do this without any of the offshored earnings coming home. Suddenly, everyone who owns equities will experience a boost in wealth, or the boost has already occurred in anticipation of the handout.
The deficit-conscious Republicans have put into the Bill for Enhancement of the Rich's Wealth, cuts in social services in order to "save workers from higher interest rates from budget deficits." This is more dishonesty. If the Fed lets real interest rates rise to any meaningful amount, derivatives will unwind, and the Fed will have to create trillions more in new dollars to keep its ponzi scheme in place. The deficit that results from the tax cut will be covered by the Fed purchasing the Treasuries, not by a rise in interest rates.
What we are witnessing in the US and indeed throughout the western world is the total failure of capitalism. Capitalism is now merely a looting machine. The financial sector no longer supplies capital for production. What the financial sector does is to turn discretionary consumer income into interest and fee payments to banks. Aggregate demand can only grow through debt expansion, and the consumers reach a point where they cannot expand their debt.
Capitalism, hiding behind "globalism," which is misrepresented as a good thing when it is death itself, locates production where labor is cheapest, thus depriving First World labor of good wages and work opportunities and putting First World countries on the path to becoming Third World countries. Short-term profits and executive and board bonuses and stock options are maximized at the cost of the destruction of the domestic consumer market.
Plunder Capitalism also privatizes as much of the public sector, such as the military, as possible, thus driving up the cost of the Pentagon's budget. Jobs that the soldiers themselves formerly did are given to politically-connected firms. What was once KP (kitchen patrol) is now provided by an ouside private service. Private mercenaries hired by the Pentagon collect as much in a month as troops in the line of fire earn in a year. I don't know that the army any longer has a supply organization other than the private business that has the contract.
Medicare and Medicaid are the next to be privatized, along with Social Security. The tax cut will result in deficit and high interest rate hype, and these lies will be used to save the workers from high interest rates on their mortgage, credit card, and student loan debt by scaling back or privatizing Medicare, Medicaid, and Social Security.
The environment and public lands will be sacrificed to the private profits of timber, mining, and energy companies. Grizzley bears and wolves are losing their protection under the endangered species act so that states can sell trophy hunting licenses to men who have to prove their manhood by killing an animal with a high-powerful rifle at a safe distance.
What we are witnessing is the complete looting of America and the entirety of the West. While the Western World collapses, the insouciant, submissive people sit there sucking their thumbs while they are being ruined.
Nothing is left of the West except looters at work.
This tax bill is an abomination, an act of brutal plunder. Its sponsers should be tarred and feathered and ridden out of town on a rail, if not hung from a lamp post.
Hon. Paul Craig Roberts is the John M. Olin Fellow at the Institute for Political Economy, Senior Research Fellow at the Hoover Institution, Stanford University, and Research Fellow at the Independent Institute. A former editor and columnist for The Wall Street Journal and columnist for Business Week and the Scripps Howard News Service, he is a nationally syndicated columnist for Creators Syndicate in Los Angeles and a columnist for Investor's Business Daily. In 1992 he received the Warren Brookes Award for Excellence in Journalism. In 1993 the Forbes Media Guide ranked him as one of the top seven journalists.

He was Distinguished Fellow at the Cato Institute from 1993 to 1996. From 1982 through 1993, he held the William E. Simon Chair in Political Economy at the Center for Strategic and International Studies. During 1981-82 he served as Assistant Secretary of the Treasury for Economic Policy. President Reagan and Treasury Secretary Regan credited him with a major role in the Economic Recovery Tax Act of 1981, and he was awarded the Treasury Department's Meritorious Service Award for "his outstanding contributions to the formulation of United States economic policy." From 1975 to 1978, Dr. Roberts served on the congressional staff where he drafted the Kemp-Roth bill and played a leading role in developing bipartisan support for a supply-side economic policy.

In 1987 the French government recognized him as "the artisan of a renewal in economic science and policy after half a century of state interventionism" and inducted him into the Legion of Honor.

Dr. Roberts' latest books are The Tyranny of Good Intentions, co-authored with IPE Fellow Lawrence Stratton, and published by Prima Publishing in May 2000, and Chile: Two Visions - The Allende-Pinochet Era, co-authored with IPE Fellow Karen Araujo, and published in Spanish by Universidad Nacional Andres Bello in Santiago, Chile, in November 2000. The Capitalist Revolution in Latin America, co-authored with IPE Fellow Karen LaFollette Araujo, was published by Oxford University Press in 1997. A Spanish language edition was published by Oxford in 1999. The New Colorline: How Quotas and Privilege Destroy Democracy, co-authored with Lawrence Stratton, was published by Regnery in 1995. A paperback edition was published in 1997. Meltdown: Inside the Soviet Economy, co-authored with Karen LaFollette, was published by the Cato Institute in 1990. Harvard University Press published his book, The Supply-Side Revolution, in 1984. Widely reviewed and favorably received, the book was praised by Forbes as "a timely masterpiece that will have real impact on economic thinking in the years ahead." Dr. Roberts is the author of Alienation and the Soviet Economy, published in 1971 and republished in 1990. He is the author of Marx's Theory of Exchange, Alienation and Crisis, published in 1973 and republished in 1983. A Spanish language edition was published in 1974.

Dr. Roberts has held numerous academic appointments. He has contributed chapters to numerous books and has published many articles in journals of scholarship, including the Journal of Political Economy, Oxford Economic Papers, Journal of Law and Economics, Studies in Banking and Finance, Journal of Monetary Economics, Public Finance Quarterly, Public Choice, Classica et Mediaevalia, Ethics, Slavic Review, Soviet Studies, Rivista de Political Economica, and Zeitschrift fur Wirtschafspolitik. He has entries in the McGraw-Hill Encyclopedia of Economics and the New Palgrave Dictionary of Money and Finance. He has contributed to Commentary, The Public Interest, The National Interest, Harper's, the New York Times, The Washington Post, The Los Angeles Times, Fortune, London Times, The Financial Times, TLS, The Spectator, Il Sole 24 Ore, Le Figaro, Liberation, and the Nihon Keizai Shimbun. He has testified before committees of Congress on 30 occasions.

Dr. Roberts was educated at the Georgia Institute of Technology (B.S.), the University of Virginia (Ph.D.), the University of California at Berkeley and Oxford University where he was a member of Merton College.

He is listed in Who's Who in America, Who's Who in the World, The Dictionary of International Biography, Outstanding People of the Twentieth Century, and 1000 Leaders of World Influence. His latest book, HOW THE ECONOMY WAS LOST, has just been published by CounterPunch/AK Press. He can be reached at: [email protected]
I listen to my readers. In March 2010, I terminated my syndicated column. Thousands of you protested. So persuasive were your emails asking me to reconsider and to continue writing that, two months later, I began writing again.

In order to create a coherent uncensored and unedited archive of my writings, The Institute For Political Economy, a non-profit organization that supports research, writing and books, has established this site, thus gratifying readers' demands that I continue to provide analyses of events in our time.

In order to stay up, this site needs to pay for itself.