Ron Paul Warns A 50% Stock Market Decline Is Coming...And There's No Way To Stop It
Tyler Durden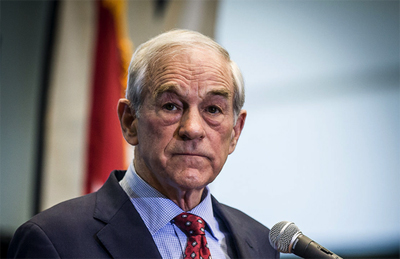 Is Ron Paul about to be proven right once again? 
TheEconomiCollapse.com's Michael Snyder thinks so. For a very long time, Ron Paul has been one of my political heroes.  His willingness to stand up for true constitutional values and to keep saying "no" to the Washington establishment over and over again won the hearts of millions of American voters, and I wish that there had been enough of us to send him to the White House either in 2008 or in 2012.  To this day, I still wish that we could make his classic work entitled "End The Fed" required reading in every high school classroom in America.  He was one of the few members of Congress that actually understood economics, and it is very sad that he has now retired from politics.  With the enormous mess that Washington D.C. has become, we sure could use a lot more statesmen like him right now.
But even though he has retired from politics, Ron Paul is still speaking out about the most important issues of the day.  And what he recently told CNBC is extremely ominous.
The following comes from a CNBC article entitled "Ron Paul: US is barreling towards a stock market drop of 50% or more, and there's no way to prevent it"… According to the former Republican Congressman from Texas, the recent jump in Treasury bond yields suggest the U.S. is barreling towards a potential recession and market meltdown at a faster and faster pace. And, he sees no way to prevent it.
"We're getting awfully close. I'd be surprised if you don't have everybody agreeing with what I'm saying next year some time,"

"It can be pretty well validated by looking at monetary history that when you inflate the currency, distort interest rates and live beyond your means and spend too much, there has to be an adjustment," he said.

"We have the biggest bubble in the history of mankind."

"I know it's going to happen," Paul said. "It will come, and the bubble is bigger than ever before."
Of course lots of such predictions are flying around these days.
In fact, at this point even the IMF is warning of a "second Great Depression".
So when it actually takes place it won't be much of a surprise.  However, I do believe that many will be surprised by the ferocity of the coming crash.  According to Ron Paul, stock prices could end up falling by up to 50 percent…
Paul is a vocal Libertarian known for an ardent grassroots fanbase that propelled him to multiple presidential runs, as well as his grim warnings about the economy. Yet he has been warning investors for years that an epic drop of 50 percent or more will eventually hit the stock market. He predicted the February correction, but not in size and scope.
Actually, stock prices need to fall by at least 50 percent in order for stock valuations to get close to their long-term averages.
In the end, if stocks only fall by 50 percent we will be extremely fortunate.  Stock valuations always, always, always return to their long-term averages eventually, and usually they fall below those averages during a period of adjustment.
And the mood on Wall Street has definitely changed.  The euphoria that we once witnessed is now gone, and instead it has been replaced by a gnawing sense that a really big downturn is coming.  In his most recent piece, John Hussman compared it to the fading out of a pop song…
In recent days, the combination of extreme valuations and unfavorable market internals has been joined by acute dispersion in daily trading data that often occurs within a few days of pre-collapse peaks in the market. My opinion is that the music has already quietly faded out like the end of a pop song, in a wholly uneventful way, and that even a surprise push to further highs would be marginal.
And he concluded his most recent piece with this very chilling statement…
For now, and until market conditions shift, there's an open trap door under the equity market, and it's a very long way down.
The end of last week was very bad for the markets, and so Monday and Tuesday will be key.
If stock prices continue to fall, this could be the beginning of a race for the exits.
But if stock prices rebound a bit, it means that we could have some more time.
And keep an eye on junk bonds.  They crashed really hard just before the financial crisis of 2008, and they are starting to slip here in October 2018.
A full-blown junk bond panic would definitely be a very clear sign that a major market crash is imminent.
As I write this, all of the markets in Asia are down.  Chinese stocks have fallen almost 3 percent, and that is very troubling news.
But whether a massive crisis erupts right now or not, the truth is that there is no way that we are going to avoid the consequences of our actions.
At this moment we are in the terminal phase of the biggest debt bubble in human history.  In fact, total indebtedness in the United States has increased by more than 2 trillion dollars over the past 12 months…
In total, indebtedness of consumers, corporations, and all governments has grown by $2.04 trillion over the past four quarters. And they're going to be paying higher interest rates on this ballooning debt. In other words, debt service costs are going to rise substantially.
All of this debt has fueled a short-term bubble of relative "prosperity", but meanwhile all of our long-term problems just continue to get worse.
There is no possible way that our debt bubble can continue to grow much faster than the overall economy indefinitely.  In fact, we have already been defying the laws of economics for way too long.
Eventually all debt bubbles burst, and when this one bursts we are going to experience economic pain on a scale that America has never seen before.
 

 

our mission:

to widen the scope of financial, economic and political information available to the professional investing public.
to skeptically examine and, where necessary, attack the flaccid institution that financial journalism has become.
to liberate oppressed knowledge.
to provide analysis uninhibited by political constraint.
to facilitate information's unending quest for freedom.
our method: pseudonymous speech...
Anonymity is a shield from the tyranny of the majority. it thus exemplifies the purpose behind the bill of rights, and of the first amendment in particular: to protect unpopular individuals from retaliation-- and their ideas from suppression-- at the hand of an intolerant society.

...responsibly used.

The right to remain anonymous may be abused when it shields fraudulent conduct. but political speech by its nature will sometimes have unpalatable consequences, and, in general, our society accords greater weight to the value of free speech than to the dangers of its misuse.

Though often maligned (typically by those frustrated by an inability to engage in ad hominem attacks) anonymous speech has a long and storied history in the united states. used by the likes of mark twain (aka samuel langhorne clemens) to criticize common ignorance, and perhaps most famously by alexander hamilton, james madison and john jay (aka publius) to write the federalist papers, we think ourselves in good company in using one or another nom de plume. particularly in light of an emerging trend against vocalizing public dissent in the united states, we believe in the critical importance of anonymity and its role in dissident speech. like the economist magazine, we also believe that keeping authorship anonymous moves the focus of discussion to the content of speech and away from the speaker- as it should be. we believe not only that you should be comfortable with anonymous speech in such an environment, but that you should be suspicious of any speech that isn't.