Fed's Constraint of the POTUS and 2020 Election –
Global Financial Crisis Looming
Trader Stef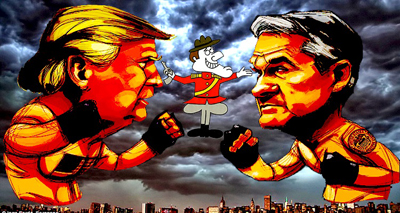 It appears that within the Fed's circle of influence and its former officials, they have chosen to go on the offense…

by TraderStef via CrushTheStreet (connect with TraderStef via Twitter or atTraderStef's website)
"I was born for a storm, and a calm does not suit me"

 "The bank, Mr. Van Buren, is trying to kill me. But I will kill it"

 "You are a den of vipers. I intend to rout you out and by the Eternal God, I will rout you out"

 – President Andrew Jackson
Last fall, I opined about tension building between the POTUS and Federal Reserve in "Trump the Jacksonian Has the Authority to Fire a Fed Chair." I offered some thoughts on the lack of civility growing in the societal fabric as de-dollarization takes hold in "Central Banks and Civil War Plebs Must Still Play the Dollar Cards Dealt," published on Aug. 24, 2019. Here is an excerpt from the Jacksonian article:
"One way to fire a Fed chair is through personal or legal issues that arise, but that is a hopeful waiting game without results. The other argument would fall into a category of FOMC policy decisions vs. individual views. An example is if it can be reasonably argued that rate hikes and a strengthening dollar do not represent interests in agriculture, commerce (i.e. crashing stock market), industry (corporate debt defaults due to higher interest rates), services, labor, or consumers (i.e. falling demand and rising defaults on debt due to higher interest), as these are detrimental to the administration's agenda and economic recovery. Setting up the Fed as the fall guy if the economy suddenly takes a severe turn appears to be the only viable option, and the current rhetoric may be the way to 'precedent' a decision to remove the Fed chair if and when a severe downturn manifests."
In a surprising twist to the Aug. 24 article, our former Pentagon chief has raised concerns over civil war within the context of tribalism as a threat to national security.
Ex-Pentagon chief Mattis says bitter politics threaten US… "Former Defense Secretary Jim Mattis is warning that bitter political divisions threaten American society, saying he views "tribalism" as a greater risk to the nation's future than foreign adversaries." – AP, Aug. 29
It appears that within the Fed's circle of influence and its former officials, they have chosen to go on the offense as a defense for their existence and mandate. It is noteworthy to remember that the Fed is a private bank with unelected, appointed officials. Wielding their monetary policy responsibility as a political tool is unlikely to be a winning strategy because that sets them up (i.e. Fed chair Powell) for potential removal from office and defeats their offense. It also baits the biased media pundits into showing their true colors.
The Fed Shouldn't Enable Donald Trump… "U.S. President Donald Trump's trade war with China keeps undermining the confidence of businesses and consumers, worsening the economic outlook. This manufactured disaster-in-the-making presents the Federal Reserve with a dilemma: Should it mitigate the damage by providing offsetting stimulus, or refuse to play along? If the ultimate goal is a healthy economy, the Fed should seriously consider the latter approach… I understand and support Fed officials' desire to remain apolitical. But Trump's ongoing attacks on Powell and on the institution have made that untenable. Central bank officials face a choice: enable the Trump administration to continue down a disastrous path of trade war escalation, or send a clear signal that if the administration does so, the president, not the Fed, will bear the risks — including the risk of losing the next election." – Former FRBNY President Bill Dudley via Bloomberg, Aug. 27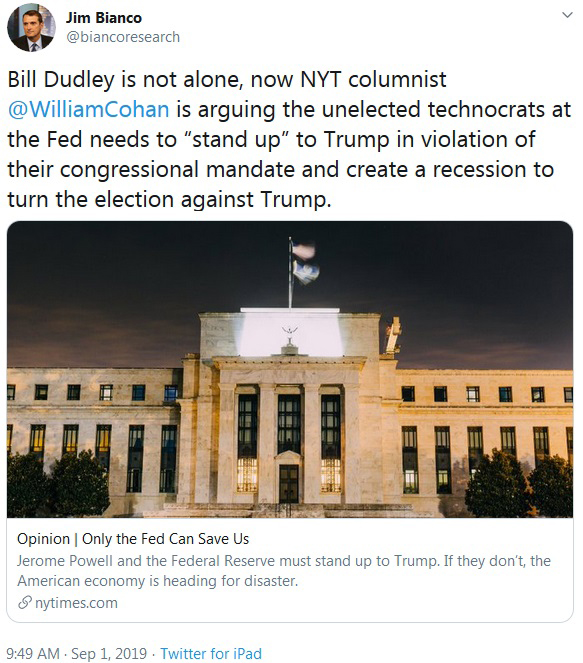 The drama escalated to a level where senators are calling for an investigation into the Fed.
Sponsored By Stansberry Research

PhD Millionaire who called Dotcom crash, housing bust, and market's surge since '09 is now predicting a 'cash panic' in 2019. Here's how to prepare..Read More

Senator Calls For Probe Into Fed Independence After Bill Dudley Urges Fed To Overthrow Trump… "In the aftermath of the shocking Bill Dudley op-ed, which has 'opened a staggering can of worms', and prompted many to call the former NY Fed central banker "rogue." It was only a matter of time before someone called for an official inquiry into the independence of the Federal Reserve: the world's most important central bank, the same one which Bernanke's former advisor Andrew Levin said 3 years ago 'a lot of people would be stunned to know" the extent to which the Federal Reserve is privately owned.' And sure enough, on Wednesday afternoon, Republican Senator Thom Tillis called for the Senate Banking Committee to probe the Federal Reserve's independence after Bill Dudley infamously suggested the upcoming presidential election 'falls within the Fed's purview', hinting that it is ultimately the Fed – through its monetary policy – that picks the US president." – Zerohedge, Aug. 28
Dudley immediately reacted with a retraction of sorts, but the damage is done.
What I Meant When I Said 'Don't Enable Trump'… "I was suggesting that if the Fed pushed back that it might be able to achieve a better economic outcome. I was not suggesting that the Fed should do so regardless of the consequences for the economy or that it should stand by and allow a recession. And I was not trying to suggest that the Fed should take sides in the upcoming election." – Former FRBNY President Bill Dudley via Bloomberg, Sep. 4
Providing any further opinion on the totality of the matter will not do it justice. I will leave it to the following folks from both sides of the ideological aisle, who eloquently lay out the financial mess our global markets face, as the hypocrisy of monetary policy and politics are naked for all to see while a battle of wills between the Fed and the White House festers.
Dudley's Worse Case Of Trump Derangement Syndrome – Former Treasury Sec.  Larry Summers on CNBC, Aug. 29
The end of the dollar as we know it – The Hill, Sep. 1
Forget the Russians: It's the Federal Reserve Seeking to Meddle in Our Elections – Ron Paul, Sep. 2
Developed world on brink of financial, economic, social, political crisis – Donald Amstad on Livewire, Aug. 27
Gold will be explosive, unlike anything we've seen – Canada's Billionaire Frank Giustra on KitcoNews, Sep. 3
In the meantime, Christine Lagarde is promoting the same monetary policy stimulus for the European Union that the International Monetary Fund and Bank of International Settlements told the world in 2013 "does not work".
BIS and IMF attacks on quantitative easing deeply misguided – Telegraph, May 2013
IMF's Lagarde to run ECB defends stimulus before European parliament – MarketWatch, Sep. 4
Judy Shelton wraps it up today with some sanity from the bleacher seats.
Fighting Fire With Fire – Prospective Fed Board Nominee Judy Shelton on CNBC Santelli Exchange, Sep. 4
Plan Your Trade, Trade Your Plan
TraderStef on Twitter
Website: https://traderstef.wordpress.com


I pursued a career within the NYC investment banking industry beginning in 1996 where I developed a diverse skillset and earned accomplishments while working with C-level Wall Street talent in executive administration, human resourcing, the registered representatives "bullpen," technology and communication, training education and development, business analysis, and global risk management. I began investing in precious metals in 1999 while following financial market trends post-Dotcom bubble and 9/11, then exited corporate investment banking in the dark days of the great financial crisis after five years in risk management at Citigroup.

As an independent investor-trader, I was mentored and began cutting my professional technical analysis teeth in a live trading room venue for three years where I developed and hosted a Precious Hour live webinar. The Precious Hour specializes in gold and silver, mining stocks, and general equities, combined with research on industry fundamentals, global news, geopolitics, and monetary policy, otherwise known as Fusion Analysis.

A BFA with high honors from one of the leading visual arts institutions in the world and freelance work in photography and magazine publishing in New York City afforded me an uncanny ability to readily recognize complex stock chart patterns in combination with various technical studies.

My technical analysis charting has promulgated through social and financial media platforms since 2013. I interview with financial publications, appear as a guest on live talk radio, provide market analysis behind the scenes upon request, and publish articles about the precious metals industry and financial markets using Fusion Analysis.

I currently author exclusive material as a Senior Contributing Editor for CrushTheStreet.  The articles are duplicated here on my blog a few days later. I can be reached via the contact page, as well as the @TraderStef ™ Twitter feed, where a follow is not necessary to send a direct message. Don't miss the archive of material uploaded at my YouTube channel.