Time To Lay Low
Turd Ferguson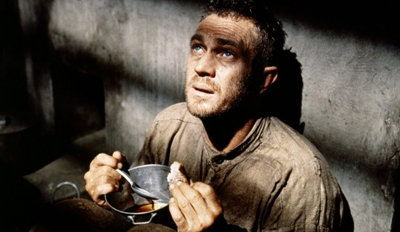 Even though we've tried to warn and prepare, none of that makes the inevitable Spec wash-and-rinse any easier to watch.
At the end of the day, it just is what it is. The year 2017 has unfolded almost precisely as we initially forecast back in January with two steps back following every three steps higher. We had carried a target of new highs for 2017, near $1320, through this most recent rally that began on July 10. That we instead reached $1360 was just a bonus, I guess.
From here and with Bank NET short positions hitting extremes over the past two weeks, we must expect further downside as Specs continue to be washed out and USDJPY/CDG reacts negatively to any hint of positive economic news that serves to reinforce Mother's hogwash of yesterday. As we discussed in yesterday's podcast, this period of frustration could very well last all the way through the next BLSBS two weeks from tomorrow. Once that's behind us...and hopefully haven't fallen too far from here...the stage will be set for the final three-steps-forward part of this year's pattern.
So, how far is "not too far from here"? Well, in CDG we've been mentioning the 50-day moving average as being the first target for The Banks. As of today, this level is $1291.30 and thus far we have a low in the Dec17 of $1292.06. See below: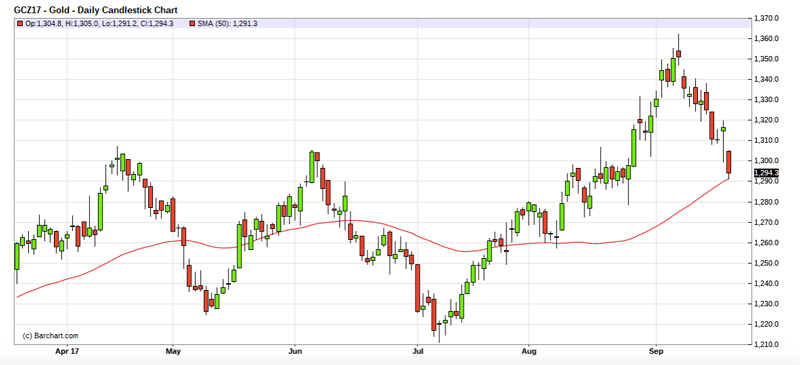 And why are The Banks targeting this level? As we've been discussing for the past three weeks or so, the three primary moving averages are all bullishly crossed. This configuration prompts the Spec HFTs to buy the dips and this generally promotes price strength. Therefore, the first key to unwinding the Spec longs and allowing The Banks to cover shorts is to break price down below the key short-term MA...the 50-day.
From here, attempts will be made to take price all the way down toward the 100-day ($1274) and 200-day ($1252). The Banks likely won't be able to get there all at once due to that Spec buy-the-dip thing. However, they WILL try to get down there over the next two weeks.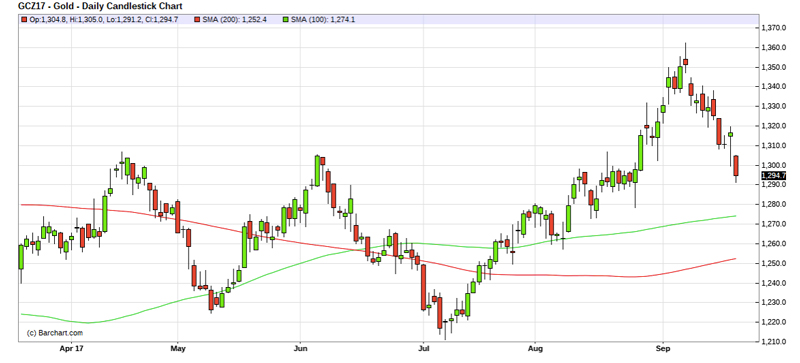 The area around the 100-day should be supportive as $1280 looks like decent chart support, too. Maybe that's as far as they will be able to go? We'll see, I guess. Anything can happen over the next two weeks and maybe something completely unexpected will prevent The Banks from pulling this off. However, IF things simply play out in the usual orderly fashion, I expect a low to this cycle near $1250 or so and, from there, we can begin to rally into year end.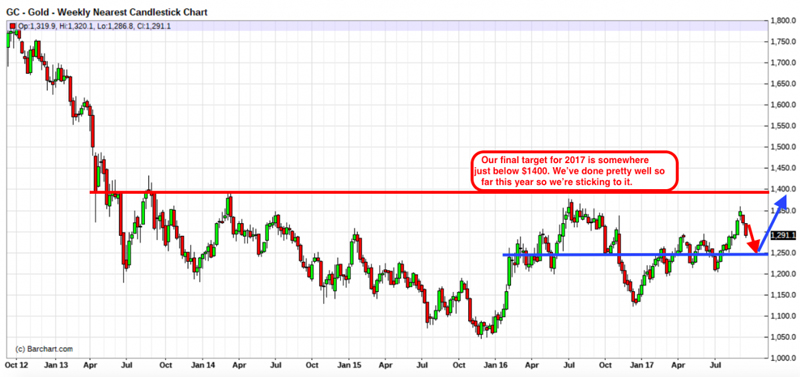 Turning to Comex Digital Silver...Now that price is below BOTH the 200-week MA AND the 200-day MA, JPM has The Specs Longs firmly on the run. There's also a general sense of commodity DEflation again post-Mother and this is prompting selloffs in just about every industrial metal, too.
This now the SEVENTH TIME IN JUST THE PAST TWELVE MONTHS that the criminal JPM et al have allowed Spec long positions to be built, only to flush them back out by smashing price back below the 200-week MA. Incredible!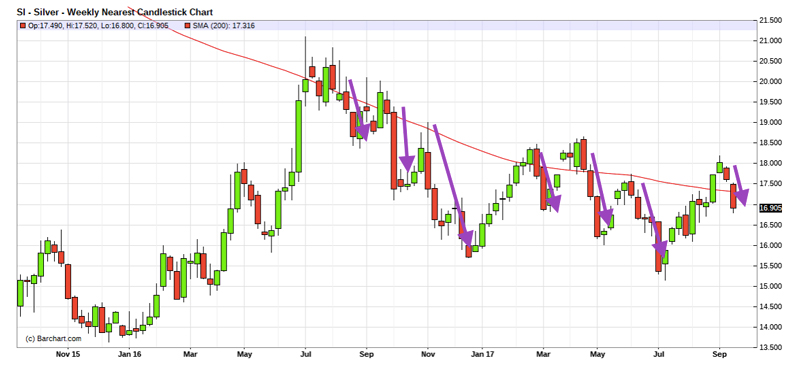 So now the only question that remains is: How far can they smash price down this time? I can see where some will expect new lows for 2017 and while that's certainly possible, I don't think that's likely. Instead...and consistent with what we've discussed all year...I think a sort of bowl or rounded bottom is forming on the chart.
If we go back further and look at the weekly chart, I think you'll be able to see what I mean. There's a reason we bottomed in early July near $15.50 and it's the same reason we'll bottom now somewhere between $16 and $16.50. This chart doesn't show you exactly what I mean but I think it gives you the general picture. After this current phase concludes, I still think we rally into year end with highs up near that $18.50 level...setting us to break out with a solid start to 2018.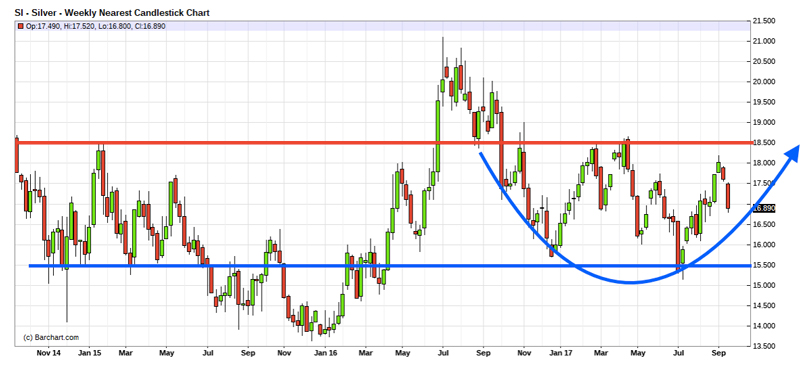 And that's where we are here on Thursday, September 21. I wish I had better news but, again, it is what it is. With The Banks still firmly in charge (and NOT on the run or any of that other BS:), we all knew that this latest Spec rinse was coming and that it was only a matter of time. All we can do now is sit back and watch while we wait for the next entry point and rally. As of today, it looks like we'll need to give it about two weeks or so to play out. In the meantime, we'll try to have some fun and keep our sanity, perhaps drawing a small level of confidence from knowing how and why The Game is played by The Banks.
TF
www.tfmetalsreport.com/subscribe
TF Metals Report is a blog and online community about the "end of the Great Keynesian Experiment." What does that mean?
"Keynesian" economics is the idea that governments can stimulate economic growth through deficit spending. Not surprisingly, the failure of this system has saddled this and future generations with trillions in unserviceable debt. This debt now threatens to destroy the American dollar and perhaps take the global economy down with it. What does the "metals" refer to in TF Metals Report? Many here buy precious metals (gold, silver) as a means of preserving wealth and purchasing power in the event of a currency collapse.
Your proprietor for TF Metals Report is Craig Hemke, aka "Turd Ferguson." Turd approaches the subject of PMs (precious metals), the markets, and the economy with a certain amount of irreverence. Even though we are dealing with serious subjects here, we don't take ourselves too seriously.
Our members are affectionately known as "Turdites" and the community is known as "Turdville."We have members from all over the world representing a variety of perspectives and political viewpoints. While we generally agree in our criticism of the "Evil Empire" (a broken and corrupt banking system), Turd encourages a light-hearted approach by poking fun and expanding awareness of issues, versus calls for violent revolution.
In the
TF Metals Report Blog
, Turd shares his thoughts and insights as to precious metals trends and the financial markets. Because the blog is
Turdville's "Main Street,"
we try to keep overly controversial subjects off the blog comments and take them to the forums - just like you would not bring up politics or religion at a large dinner party.
The
TF Metals Report Podcast
is where Turd interviews various thought leaders and experts on subjects such as market trends or economic collapse scenarios. These podcasts come out approximately every two weeks.
The
forums
are where Turdites can go to discuss a wide variety of subjects. While a good amount of forum discussion deals with precious metals and the economy, this is where you can also find information on preparing (for a collapse), argue about politics to your heart's content, and even share some music videos for fun.
While TF Metals Report originally had its genesis in the comments section of the highly respected economic site
Zero Hedge
, the community at TF Metals Report is designed to be different. If you are used to rampant flaming and "junking," please don't bring that attitude here.
We ask members to be supportive and considerate of one another. Passion about topics is encouraged, but personal attacks, intolerant fanaticism, and proselytizing are not allowed.
Turd runs a "benevolent dictatorship," which means he has the final word on all community matters. We also have a number of volunteer moderators whose job it is to keep threads on topic and to take care of trolls and troublemakers.
Welcome to TF Metals Report - we hope you enjoy your stay in Turdville.