7451 Merkel, 47 E, Side by Side 12ga 28bls ic/m 14 3/4 99% AAA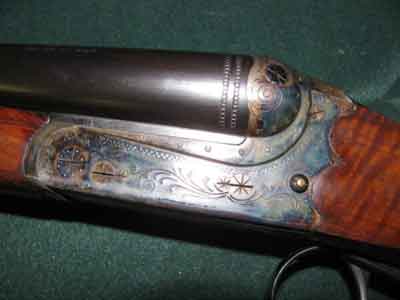 Description:
7451 Merkel 47E 12gauge 28 inch barrels id/mod STRAIGHT GRIP, ejectors, raised rib, scalloped receiver, 14 3/4 lop Decelerator AAA++TIGER STRIPed solid raised rib,, 99% condition, cocking indicator, case colored receiver, Greener cross bolt. tite, shot very little. Serial #646115

This is a wonderful German Classic and is rarely seen in this 99% condition, if at all.
Merkel Shotguns of this age and grade, in this condition, are bringing $3000+. I am asking $2500 or best offer.