The Treasonous Democratic Party
Paul Craig Roberts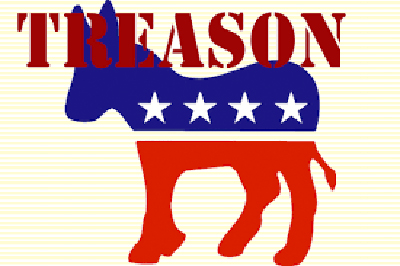 If America had more honest, fact-based journalists with integrity like Tucker Carlson, we would not be, as we are today, dissolving as a country.
In this one TV broadcast - Carlson shows that the Democrats have gone far beyond "lying through their teeth political partisanship" into deranged hatred of President Trump and the American people who elected him. 
The Democrats' insane hatred of "Trump deplorables" has firmly allied the Democrats with the corrupt military/security complex in a plot to overthrow the elected President of the United States. 
Carlson presents the former heads of US intelligence in the corrupt Obama regime accusing President Trump of treason against the United States for trying to normalize relations with Russia and endangering the United States for trying to make peace. 
What these former heads of intelligence mean is that Trump, by attempting to normalize relations with Russia, is endangering the $1,000 billion annual budget of the military/security complex and the multi-millions each of them expect to receive for their service in office not to US national security but to the security of the military/security complex's budget.
Carlson makes clear that each of these corrupt and treasonous former intelligent officials are currently monetizing their former intelligence positions by serving as well paid talking heads in the Trump-hating presstitute media. The despicable John Brennan has already revealed classified information in the past, without punishment, and is likely to do so in the future. So Carlson asks why do these traitors and liars still have their security clearances. No one has ever done America more harm than John Brennan, James Comey, James Clapper, Rod Rosenstein, and the corrput Obama FBI cabal that orchestrated "Russiagate."
Carlson's question is on target. However, the real question is why have these obvious traitors clearly engaged in a plot to overthrow the US government not been indicted and arrested? Clearly, the Trump Justice (sic) Department is protecting the traitors. What else to expect with Rod Rosenstein running the Justice (sic) Department. Why did President Trump appoint Rosenstein, who intends to destroy Trump, as de facto head of the Justice (sic) Department? What traitor advised Trump to make this appointment? 
Carlson also documents the false, and thereby felonious, warrant to spy on Carter Page obtained by the Obama Justice (sic) Department that intentionally deceived the FISA court in order to get the warrant. There is no doubt whatsoever that this crime took place. All the evidence is available. Yet not a single person has been indicted for the felony of intentionally deceiving a federal court. 
Carlson then reports on the Democratic Governor of New York's policy of pardoning convicted aliens, erasing their criminal status so that they cannot be evicted from the US. Carlson interviews the Democratic candidate for Lt. Governor of NY and asks him if the Democrats will also pardon legitimate US citizens for their crimes. All the Democratic politician can do is to speak about "children ripped from their mother's arms." But, of course, the crimes committed by the illegal aliens were not crimes committed by mothers fearful for their children. After failing to get an answer from the illiterate Democrat brainwashed by Identity Politics, Carlson moves on to Hillary Clinton's close relationship with sexual assaulter of women Harvey Weinstein.
It is amazing, isn't it, how the Democratic Party's vocal men-hating feminists love and are loyal to Hillary who has such a close and mutually supportive relationship with a notorious sexual abuser of women.  http://www.foxnews.com/opinion/2018/07/26/tammy-bruce-america-avoided-disaster-look-at-clintons-and-their-pal-harvey-weinstein.html 
Julian Assange, the world's best journalist, has spent years of his life in political asylum inside the Ecuadorian Embassy in London as the only way he can avoid being handed over by the utterly corrupt British government to Washington for torture, an orchestrated trial, and imprisonment or execution on entirely false charges. The new president of Ecuador and his foreign minister have apparently been purchased by Washington and reportedly are in the process of revoking Assange's Ecuadorian citizenship and political asylum and handing him over to the British, who, in turn, will hand him over to their Washington masters.
Have the new Ecuadorian president and foreign minister been paid many millions of dollars to disgrace the country of Ecuador by making its word and commitments worthless? Who would ever again trust such a corrupt government? Indeed, the current government of Ecuador is so corrupt that it is trying to arrest, likely on Washington's orders, the former president who granted Assange asylum. Washington has to prove to Latin America that defying Washington is simply not permitted. The current government of Ecuador is helping Washington to make that point.
All of this is happening despite the fact that neither of the Swedish women who invited Assange to copulation in their beds filed an accusation of rape with police. One was worried that a condom had not been used, and worried about all the hype about AIDS, she asked Assange to take an AIDS test. He apparently regarded this as an insult and refused, prompting the woman to inquire of the police if he could be required to take the test. From this, came the orchestrated charge of rape, twice dismissed by Swedish prosecutors. Yet with all charges dropped, Washington's puppet state of "Great" Britain continues to refuse, on Washington's orders, to acknowledge Assange's political asylum. Washington, with the complicity of the corrupt British government, has used the years of Assange's incarceration in the Ecuadorian Embassy in London to elect a Washington puppet in Ecuador, and now the newly elected puppet is conspiring with the British puppet to hand over the world's greatest journalist to the Washington Evil to be silenced forever.
If there is anywhere a proud American or a proud Englishman, he is ignorant beyond all belief. The US and UK governments prove conclusively that every citizen of both countries can only feel total and utter shame of their citizenship. 
Meanwhile, assused serial rapist Harvey Weinstein, protected by Hillary and Bill Clinton, remains uncharged and free to have expensive dinners publicly with the former First Family in New York's finest restuarants. 
Little doubt that when Hillary becomes President, Weinstein will be named Secretary for Women's Affairs.




Hon. Paul Craig Roberts is the John M. Olin Fellow at the Institute for Political Economy, Senior Research Fellow at the Hoover Institution, Stanford University, and Research Fellow at the Independent Institute. A former editor and columnist for The Wall Street Journal and columnist for Business Week and the Scripps Howard News Service, he is a nationally syndicated columnist for Creators Syndicate in Los Angeles and a columnist for Investor's Business Daily. In 1992 he received the Warren Brookes Award for Excellence in Journalism. In 1993 the Forbes Media Guide ranked him as one of the top seven journalists.

He was Distinguished Fellow at the Cato Institute from 1993 to 1996. From 1982 through 1993, he held the William E. Simon Chair in Political Economy at the Center for Strategic and International Studies. During 1981-82 he served as Assistant Secretary of the Treasury for Economic Policy. President Reagan and Treasury Secretary Regan credited him with a major role in the Economic Recovery Tax Act of 1981, and he was awarded the Treasury Department's Meritorious Service Award for "his outstanding contributions to the formulation of United States economic policy." From 1975 to 1978, Dr. Roberts served on the congressional staff where he drafted the Kemp-Roth bill and played a leading role in developing bipartisan support for a supply-side economic policy.

In 1987 the French government recognized him as "the artisan of a renewal in economic science and policy after half a century of state interventionism" and inducted him into the Legion of Honor.

Dr. Roberts' latest books are The Tyranny of Good Intentions, co-authored with IPE Fellow Lawrence Stratton, and published by Prima Publishing in May 2000, and Chile: Two Visions - The Allende-Pinochet Era, co-authored with IPE Fellow Karen Araujo, and published in Spanish by Universidad Nacional Andres Bello in Santiago, Chile, in November 2000. The Capitalist Revolution in Latin America, co-authored with IPE Fellow Karen LaFollette Araujo, was published by Oxford University Press in 1997. A Spanish language edition was published by Oxford in 1999. The New Colorline: How Quotas and Privilege Destroy Democracy, co-authored with Lawrence Stratton, was published by Regnery in 1995. A paperback edition was published in 1997. Meltdown: Inside the Soviet Economy, co-authored with Karen LaFollette, was published by the Cato Institute in 1990. Harvard University Press published his book, The Supply-Side Revolution, in 1984. Widely reviewed and favorably received, the book was praised by Forbes as "a timely masterpiece that will have real impact on economic thinking in the years ahead." Dr. Roberts is the author of Alienation and the Soviet Economy, published in 1971 and republished in 1990. He is the author of Marx's Theory of Exchange, Alienation and Crisis, published in 1973 and republished in 1983. A Spanish language edition was published in 1974.

Dr. Roberts has held numerous academic appointments. He has contributed chapters to numerous books and has published many articles in journals of scholarship, including the Journal of Political Economy, Oxford Economic Papers, Journal of Law and Economics, Studies in Banking and Finance, Journal of Monetary Economics, Public Finance Quarterly, Public Choice, Classica et Mediaevalia, Ethics, Slavic Review, Soviet Studies, Rivista de Political Economica, and Zeitschrift fur Wirtschafspolitik. He has entries in the McGraw-Hill Encyclopedia of Economics and the New Palgrave Dictionary of Money and Finance. He has contributed to Commentary, The Public Interest, The National Interest, Harper's, the New York Times, The Washington Post, The Los Angeles Times, Fortune, London Times, The Financial Times, TLS, The Spectator, Il Sole 24 Ore, Le Figaro, Liberation, and the Nihon Keizai Shimbun. He has testified before committees of Congress on 30 occasions.

Dr. Roberts was educated at the Georgia Institute of Technology (B.S.), the University of Virginia (Ph.D.), the University of California at Berkeley and Oxford University where he was a member of Merton College.

He is listed in Who's Who in America, Who's Who in the World, The Dictionary of International Biography, Outstanding People of the Twentieth Century, and 1000 Leaders of World Influence. His latest book, HOW THE ECONOMY WAS LOST, has just been published by CounterPunch/AK Press. He can be reached at: [email protected]

Please Donate

I listen to my readers. In March 2010, I terminated my syndicated column. Thousands of you protested. So persuasive were your emails asking me to reconsider and to continue writing that, two months later, I began writing again.

In order to create a coherent uncensored and unedited archive of my writings, The Institute For Political Economy, a non-profit organization that supports research, writing and books, has established this site, thus gratifying readers' demands that I continue to provide analyses of events in our time.

In order to stay up, this site needs to pay for itself.