I Remember When America Was A Free Country
Paul Craig Roberts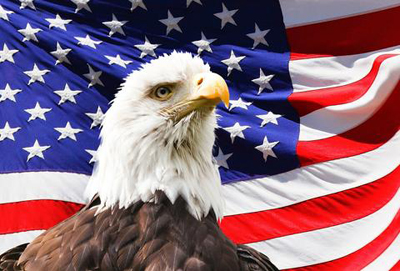 Dear Readers, In the Western World truth, justice, and liberty are in total collapse. They cannot be resurrected and restored without information. Few people have that information. The young are born into what exists, and as the tyranny increases year by year, tyranny becomes the natural order to them. Indeed, they do not recognize tyranny. Their cell phones, social media, and the Internet give them the illusion of freedom. The old are lost in the controversies of their time: The Russians are communists, only hippies, left-wingers, and communists distrust the great and good US government. In short, the vast bulk of the American people haven't a clue. When readers ask me to tell them the solution, what to do, my answer is that nothing can be done until enough people are informed. Informing is my job. Support my efforts and those of a few others whose only agenda is to inform.
In America, and throughout the Western world, it is harder and harder to speak the truth. Indeed, truth is such a devalued virtue that to speak it almost qualifies one as a criminal. If you want truth spoken, you must support it.
Now for the column:
I remember when America was a free country. You could get on an airliner without an ID. Driving licenses didn't even have photos. If a friend was coming through your city on a flight and had a few hours layover, you could meet them inside the airport for lunch or dinner. You could meet friends, children, and relatives at the gate or see them off at the gate. Parents could actually put children on the plane and grandparents could take them off.
Your flight ticket was good at any airline. If something happened to your flight or you missed it, you could use the ticket on another airline going to the same place. On international flights you were permitted two free stopovers prior to your destination. If you were going to Athens, Greece, for example, you could first visit Paris and then Rome. It worked both ways, over and back. So one air ticket, six cities.
I can remember when you could enter a Manhatten office building without having to show an ID, be looked up on a list, and cleared in, and when you could check in a hotel without an ID and paid your bill when you checked out, with cash if you preferred. The only evidence of your name was the one you gave when you checked in.
Cars didn't beep at you and neither did appliances nor construction machinery. The world was a quieter, less noise-disturbed place.
Common sense was more prevalent. Today it is hard to find any common sense. The British parliament is debating a law that would criminalize upskirt photographs. The "invasion of privacy" would have a price tag of two years imprisonment. Yet government can invade our privacy at will with street cameras, traffic cameras, read our emails, listen to our telephone calls, monitor our credit card purchases. Serious kinds of privacy invasion run amuck, but parents cannot find out if an underaged daughter is pregnant or has VD. 
As kids we ran free. Heaven help a parent that permitted that today.
Oh, but times are more dangerous today we are told. What made today more dangerous?  Failures in public policy. The government has made life more dangerous and less free.
Give the punishment of upskirt photos a moment's thought. Laws end up being applied to the limit of their logic. Initially, enforcement might require a complaint from the person whose privacy is violated. But it wouldn't be long before the act itself was the crime, complaint or not.
The photographer of the famous 1954 upskirt photo of Marilyn Monroe would be in danger and perhaps Marilyn herself as an accomplice. And what about all the people who looked at the photo. Aren't they also privacy invaders?  https://www.biography.com/news/marilyn-monroe-seven-year-itch-dress-photos
There is now a giant statue depicting the upskirt photo. https://www.cbsnews.com/pictures/up-skirt-marilyn-monroe-statue-art-or-trash/ What would be its legal implications?
Women show much more of themselves intentionally in string bikinis and thongs or in short shorts and halters than is revealed by upskirt photos. Under the English law, would a photo of the Dallas Cowboys cheerleaders in action be considered a criminal offense?
Would TV shows such as this one be considered a violation?  https://www.youtube.com/watch?v=V2-_PCgXJnw&list=RDV2-_PCgXJnw&index=1 
Let's move on to more serious examples of the crackpot laws of our time. In yet another assertion of the universal applicability of US laws, a collection of congressional nitwits has proposed a law that would punish those who make, distribute or use banned substances at international sports events with a $250,000 fine and 10 years imprisonment. The US law would apply to athletes of other countries at events held in other countries. 
Washington in its hubris has long asserted its right to legislate for other countries, and the idiot governments of the world have subjected themselves to Washington's legal authority. Not long ago a French bank was fined billions of dollars by Washington for financing companies doing business with Iran. A French shipbuilder was forced by Washington to cancel at its expense a contract with Russia, proving that France is not a sovereign country. Washington decrees sanctions on Russia, and any country that does not comply with Washington's edict is punished. As far as Washington is concerned, Washington rules the world and the sovereignty of other nations does not exist. https://www.nytimes.com/aponline/2018/06/12/sports/olympics/ap-oly-doping-congress.html 
I can tell you exactly how this law will be used. Washington will use one of its paid foreign NGO operatives in Russia, a traitor stupidly tolerated by the Russian government, or elsewhere to allege doping among Russian athletes, just as Washington is suspected of having paid Grigory Rodchenkov, the Russian lab director, with asylum, allowing him to escape justice in Russia, for inventing the story of Russian state organized mass use of banned substances. https://www.rt.com/news/425357-rodchenkov-cas-lawsuit-doping/ 
The orchestrated scandal was used to prevent Russian participation in the Olympics. It was part of Washington's campaign to demonize Russia and blacken its reputation in order to prevent normalization of relations that would threaten the trillion dollar US military/security budget that comes out of US taxpayers' pockets and which threatens also the power that goes with the money. We can't afford Social Security and Medicare, but we can afford the needless military/security complex's annual budget of one trillion dollars. 
If the bill becomes law, it would be extremely dangerous for Russian athletes to participate in sports events in the US or in countries that have treaties with Washington, as accusation alone would result in their arrest and seizure. Under the proposed law, the accused athletes have to prove their innocence, which Washington would make impossible. The Russian government would either have to invoke some law with which to arrest Americans to trade for the athletes, go to war, or accept the humiliation of being unable to rescue Russia's finest athletes from US prisons. Don't expect the congressional nitwits behind this bill to consider any of its dire consequences. They lack the intelligence. They are totally absorbed in American exceptionalism. As far as the congressional nitwits are concerned, America is the salt of the earth, after Israel, of course.
In the US laws now destroy law and the liberty that once was protected by law. It happened over time as various causes—the war on crime, the war on drugs, the war on child abuse, the war on tax evasion, the war on terrorism—over-rode the protective features of law in order to more easily arrest and convict the targeted. Each do-good agenda reduced liberty in the interest of easy and abundant convictions. All neglected Sir Thomas More's questions in A Man For All Seasons: What happens when we have cut down the law in order to better chase after the Devil, and the Devil turns on us? Where is our protection when the law is cut down? 
This is the problem of Americans today. Justice is no longer a goal of the justice system. Conviction and clearing court dockets are the goals that unite prosecutors and judges. Ninety-seven percent of felonies are settled with plea bargains, which means that the evidence against the defendant is never tested in court. The defendant is convicted by self-incrimination.
Whether innocent or guilty, defendants and their attorneys are afraid of a trial for many reasons. Trials take up far more time than plea bargains and thereby make prosecutors and judges angry because they reduce the number of convictions that the prosecutor can cite as evidence of his effectiveness (dozens of plea bargains can be processed during the duration of one trial) and crowd the judge's docket by forcing him to study the case. Consequently, the punishment from conviction at trial is much harsher than the sentence from a plea bargain. 
Even an innocent person is afraid of the risk of a trial. Prosecutors are permitted to pay witnesses with money, light sentences, and dropped charges for testimony against a suspect they desire to convict. The testimony can be false, but nothing can be done about it unless the prosecutor indicts his or her own witness. No intelligent or skeptical persons are allowed on a jury. Jurors are of the belief that where there is smoke there is fire and that the defendent would not be on trial if he were not guilty. Grand juries are even more easily manipulated and deceived. They are putty in the hands of prosecutors. 
Thanks to the War on Drugs, innocent Americans are faced with asset forfeiture. There is a notorious section of an Interstate highway in Tennesses where various local police jurisdictions fight over who gets to stop out-of-state cars and rob them of their cash if it exceeds $100 on the grounds that the sum indicates the intent to either buy or sell drugs. In The Tyranny of Good Intentions, Lawrence Stratton and I provide many examples of innocent Americans losing their money, their properties, and even their lives to the asset forfiture rules of the War on Drugs.https://www.amazon.com/Tyranny-Good-Intentions-Prosecutors-Constitution/dp/0307396061/ref=sr_1_6?s=books&ie=UTF8&qid=1529442763&sr=1-6&keywords=Paul+Craig+Roberts&dpID=51mpPwddOtL&preST=_SY291_BO1,204,203,200_QL40_&dpSrc=srch 
For example, Selena Washington, a black woman who understood that she could not purchase thousands of dollars of construction materials with which to repair her hurricane damaged home with a check, drove along I-95 in Florida with $19,000 in cash from the insurance settlement to pay for the materials that would be used to restore her home. She was stopped, searched without a warrant and her $19,000 was stolen by the police. After much stress, eventually she was able to recover $15,000 of the theft by agreeing that the police could keep $4,000.
Willie Jones, a black nurseryman, who understood that he had to pay cash to restock his nursery, made the mistake of using cash, a legitimate means of payment, to purchase an airline ticket. The brainwashed airline ticket agent notified police as a cash ticket purchase fits the profile of a drug dealer. Jones' cash was confiscated, and his nursery was not restocked.
Multimillionaire Donald Scott lost his life, because of a police plot to confiscate his 200 acre Malibu, California, estate for the US Park Service. The corrupt police claimed to have witnessed from overflying the estate marijuana plants on his land. An army of 30 armed agents invaded his home at night and shot him dead when he came from his bedroom to see what was happening. There were no marijuana plants on his estate. What in the world would a multimillionaire heir to a known forturne need to raise marijuana to sell for money? Yet the police got off with the murder.
Asset forfeiture was extended beyond the drug trade. People have lost their motels because a customer had a prostitute in the rented room.
Thanks to the War on Terrorism, the attorney-client privilege is dead as witnessed by the false imprisonment of Lynn Stewart. Thanks to the War on Terrorism, due process is dead along with habeas corpus. American citizens can now be arrested and held in prison indefinitely for the rest of their lives without a trial or any evidence ever being presented to a court. This was a creation of the criminal George W. Bush regime. Americans can now be executed without due process of law, which means without evidence brought against them in a court and conviction on the evidence. This was a creation of the criminal Obama regime. George W. Bush and Obama presided over the two worst criminal governments in human history.
In America today, law is declared as edicts from the executive, justified by illogical and nonsensical legal memos, such as those written by John Yoo, from the corrupt Department of Justice (sic). For his service to the police state, John Choon Yoo from Korea was made the Emanuel S.Heller Professor of Law at the University of California, Berkeley. Go to Berkeley's law school to learn the non-existence of the US Constitution and the Bill of Rights. Learn how whatever the executive wants to do is the law. 
In other words, just as there is no respect for the law in prosecutorial offices and courts, there is none in law schools and bar associations. 
America is without a defender of law, except for organizations such as the Rutherford Institute and, occasionally, the American Civil Liberties Union. As often as not the ACLU is off-track worrying about "transgender rights" while the Bill of Rights is eviscerated.
Justice, the rule of law, these are in the way of the elites and have been discarded. The American people are so poorly educated and informed that they do not understand the consequences of the demise of the laws that once upheld the US Constitution. 
The corrupt, degenerate, inhumane world that is the Western world is the world that the insane Russian liberals cannot wait to join. The idiot Russian liberals deserve no better, but, of course, it means that the entire world is going down the tubes, not only the Western world.
Before subcoming to despair, be informed that my articles are translated and published internationally in many languages. I have been informed by one large Russian newspaper, which regularly translates and publishes my columns that it knows not how many read the print version but the online version of my column, "Is Europe Too Brainwashed To Normalize Relations With Russia?," was read by 300,956 online readers. 
This is the readership of just one newspaper in Russia. My world wide audience is many times larger than the New York Times and my credibility, despite the continuous attacks, is far greater than the Western TV media.
In the days when the US was a free counry, major foundations would have been supporting this website. Today they are part of the corrupt establishment and only serve the propaganda. Therefore, the continuance of this website is up to you alone.
As a major dissenter from the lies and propaganda that emanate from the Western capitals, I am a target, someone to be eliminated. Unless I shut up, it will eventually happen. This is a large risk for me to assume for people who do not care sufficiently about truth to support this website.


Hon. Paul Craig Roberts is the John M. Olin Fellow at the Institute for Political Economy, Senior Research Fellow at the Hoover Institution, Stanford University, and Research Fellow at the Independent Institute. A former editor and columnist for The Wall Street Journal and columnist for Business Week and the Scripps Howard News Service, he is a nationally syndicated columnist for Creators Syndicate in Los Angeles and a columnist for Investor's Business Daily. In 1992 he received the Warren Brookes Award for Excellence in Journalism. In 1993 the Forbes Media Guide ranked him as one of the top seven journalists.

He was Distinguished Fellow at the Cato Institute from 1993 to 1996. From 1982 through 1993, he held the William E. Simon Chair in Political Economy at the Center for Strategic and International Studies. During 1981-82 he served as Assistant Secretary of the Treasury for Economic Policy. President Reagan and Treasury Secretary Regan credited him with a major role in the Economic Recovery Tax Act of 1981, and he was awarded the Treasury Department's Meritorious Service Award for "his outstanding contributions to the formulation of United States economic policy." From 1975 to 1978, Dr. Roberts served on the congressional staff where he drafted the Kemp-Roth bill and played a leading role in developing bipartisan support for a supply-side economic policy.

In 1987 the French government recognized him as "the artisan of a renewal in economic science and policy after half a century of state interventionism" and inducted him into the Legion of Honor.

Dr. Roberts' latest books are The Tyranny of Good Intentions, co-authored with IPE Fellow Lawrence Stratton, and published by Prima Publishing in May 2000, and Chile: Two Visions - The Allende-Pinochet Era, co-authored with IPE Fellow Karen Araujo, and published in Spanish by Universidad Nacional Andres Bello in Santiago, Chile, in November 2000. The Capitalist Revolution in Latin America, co-authored with IPE Fellow Karen LaFollette Araujo, was published by Oxford University Press in 1997. A Spanish language edition was published by Oxford in 1999. The New Colorline: How Quotas and Privilege Destroy Democracy, co-authored with Lawrence Stratton, was published by Regnery in 1995. A paperback edition was published in 1997. Meltdown: Inside the Soviet Economy, co-authored with Karen LaFollette, was published by the Cato Institute in 1990. Harvard University Press published his book, The Supply-Side Revolution, in 1984. Widely reviewed and favorably received, the book was praised by Forbes as "a timely masterpiece that will have real impact on economic thinking in the years ahead." Dr. Roberts is the author of Alienation and the Soviet Economy, published in 1971 and republished in 1990. He is the author of Marx's Theory of Exchange, Alienation and Crisis, published in 1973 and republished in 1983. A Spanish language edition was published in 1974.

Dr. Roberts has held numerous academic appointments. He has contributed chapters to numerous books and has published many articles in journals of scholarship, including the Journal of Political Economy, Oxford Economic Papers, Journal of Law and Economics, Studies in Banking and Finance, Journal of Monetary Economics, Public Finance Quarterly, Public Choice, Classica et Mediaevalia, Ethics, Slavic Review, Soviet Studies, Rivista de Political Economica, and Zeitschrift fur Wirtschafspolitik. He has entries in the McGraw-Hill Encyclopedia of Economics and the New Palgrave Dictionary of Money and Finance. He has contributed to Commentary, The Public Interest, The National Interest, Harper's, the New York Times, The Washington Post, The Los Angeles Times, Fortune, London Times, The Financial Times, TLS, The Spectator, Il Sole 24 Ore, Le Figaro, Liberation, and the Nihon Keizai Shimbun. He has testified before committees of Congress on 30 occasions.

Dr. Roberts was educated at the Georgia Institute of Technology (B.S.), the University of Virginia (Ph.D.), the University of California at Berkeley and Oxford University where he was a member of Merton College.

He is listed in Who's Who in America, Who's Who in the World, The Dictionary of International Biography, Outstanding People of the Twentieth Century, and 1000 Leaders of World Influence. His latest book, HOW THE ECONOMY WAS LOST, has just been published by CounterPunch/AK Press. He can be reached at: [email protected]

Please Donate

I listen to my readers. In March 2010, I terminated my syndicated column. Thousands of you protested. So persuasive were your emails asking me to reconsider and to continue writing that, two months later, I began writing again.

In order to create a coherent uncensored and unedited archive of my writings, The Institute For Political Economy, a non-profit organization that supports research, writing and books, has established this site, thus gratifying readers' demands that I continue to provide analyses of events in our time.

In order to stay up, this site needs to pay for itself.