China Calls For "People's War" Against The US, Vows To
"Fight For A New World"
Brandon Smith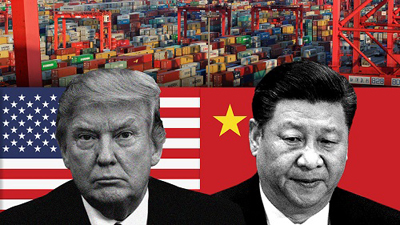 While market mood has shifted diametrically from yesterday, with stocks sharply higher on Tuesday following what has widely been interpreted as conciliatory comments from both president Trump and various members of China's ruling elite, one would be hard pressed to find any de-escalation amid the Chinese press commentaries written in the aftermath of the latest escalation in trade war between the US and China.
In a series of editorials and op-ed articles published Monday and Tuesday, Chinese state media slammed what it labeled the Trump administration's "greed and arrogance", called for a "people's war" targeting the US "with precision" as China begins a "fight for a new world."
"The most important thing is that in the China-US trade war, the US side fights for greed and arrogance ... and morale will break at any point. The Chinese side is fighting back to protect its legitimate interests," the nationalist, state-owned Global Times tabloid wrote.
Urging indirect boycott of US goods and services, the editorial slammed Trump and suggested a nation-wide uprising against the US aggression: "The trade war in the US is the creation of one person and one administration, but it affects that country's entire population. In China, the entire country and all its people are being threatened. For us, this is a real 'people's war.'" Whether this means a renewed collapse in Chinese iPhone sales remains to be seen - for confirmation, watch for a new guidance cut from Apple in the coming days.
The Global Times also accused the Trump administration of misleading Americans about the victims of US tariffs. It singled out Larry Kudlow's interview on "Fox News Sunday" in which Trump's top economic advisor said that US consumers would also suffer from the trade war, contradicting Trump's claim that China would foot the bill.
More than just a retaliation to "unprovoked" US aggression, China now sees its response as a crusade against the western style of life. During a prime time broadcast on Monday, CNN reported that the state broadcaster CCTV also aired a statement saying that China would "fight for a new world."
"As President Xi Jinping pointed out, the Chinese economy is a sea, not a small pond," anchor Kang Hui said on his 7 p.m. news show. "A rainstorm can destroy a small pond, but it cannot harm the sea. After numerous storms, the sea is still there." Hui concluded echoing a popular refrain, that "China…doesn't want to fight, but it is not afraid to fight."
The Global Times also mocked Trump's suggestion that the tariff hike would "force companies to leave China", stating that "the consumption capabilities and market consumption potential driven by demand are what foreign companies value most when they come to China."
As a result, "the White House might as well try to call on American companies such as General Motors, Ford, Apple, McDonald's and Coca-Cola to leave China. Will any of them follow?"
The editorial also hinted that more retaliations are coming, saying that "China has plenty of countermeasures" and telling its readers that "the US tariff moves are very much like spraying bullets. They will cause a lot of self-inflicted harm and are hard to sustain in the long term. China, on the other hand, is going to aim with precision, trying to avoid hurting itself."
In an amusing twist, China then accused Trump of spinning and "seeking to beautify the trade war", while Beijing has been "blunt about the difficulties and losses that the trade war will bring to the Chinese economy."
The conclusion: "the Chinese side is obviously more realistic while the US is falsifying. This will, to a large extent, influence how the two countries digest the trade war impacts."
Whatever side of the ideological divide one finds themselves, this is hardly the rhetorica that will allow China to reach a quick and painless compromise.
EDITOR'S NOTE:  I will be releasing my latest analysis of the trade war situation soon.  Needless to say for the readers here at Alt-Market, the deal farce is over and the trade war distraction has clearly gone into overdrive.  I suspect that now is the time when the Federal Reserve will increase their balance sheet cuts even more, and I also suspect that the Chinese central bank (PBOC) will cut off the stimulus measures which have been propping up global stocks for the past four months. The trade war provides a perfect distraction and scapegoat for central bank actions which are destabilizing the global economy. 
Brandon Smith, Founder of Alt-Market.com



 

Brandon is the founder and chief strategist behind the Alternative Market Project. His goal is to create a barter networking hub and educational gathering place for every American across the country who wishes to decouple from our current collapsing financial system and build something better. Getting people out of their homes and meeting face to face to organize meaningful relationships, and eventually, entire free market communities designed to shield cities and states from economic and political danger; this is the mission of the Alternative Market Project.