Devin Nunes Calls For The ARREST Of Shadow Government Official, John Kerry
Mac Slavo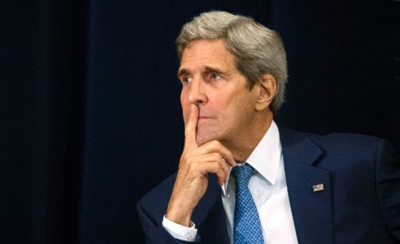 Devin Nunes,  the chairman of the House Intelligence Committee,  isn't all that happy with deep state puppet John Kerry meddling in foreign policy.  Nunes has now called for the arrest of Kerry on charges of treason.
According to US law, (laws these same politicians write with no attempt to obey) no private citizen may meet with a foreign power to negotiate a deal. Since Kerry was working directly against US policy and is and trying to sabotage the elected government the charge of treason would apply, according to Steadfast and Loyal.
Congressman Devin Nunes (R-CA) made his demand to imprison the former Massachusetts Democrat under the Logan Act, which could theoretically result in three years in federal prison. The allegations followed a new Boston Globe report on former Secretary of State Kerry is quietly working with to save the Iran nuclear deal which he helped draft.
[Kerry] sat down at the United Nations with Foreign Minister Javad Zarif to discuss ways of preserving the pact limiting Iran's nuclear weapons program. It was the second time in about two months that the two had met to strategize over salvaging a deal they spent years negotiating during the Obama administration, according to a person briefed on the meetings.

With the Iran deal facing its gravest threat since it was signed in 2015, Kerry has been on an aggressive yet stealthy mission to preserve it, using his deep lists of contacts gleaned during his time as the top US diplomat to try to apply pressure on the Trump administration from the outside.  – The Boston Globe
These actions by Kerry prompted a tweet from Nunes:

"G Men" is short for "government men" and since 1935 has been used exclusively to refer to FBI special agents, the Bureau claims. But Nunes is facing what may be insurmountable odds.  In history, only two indictments were ever made using the Logan Act and neither ever went to trial.
According to The Gateway Pundit, several leading officials have called on the Sessions DOJ to prosecuted John Kerry for violations against the Logan Act.  The corruption in the American government right now is at unprecedented and never before seen levels.
Click here to subscribe
: Join over one million monthly readers and receive breaking news, strategies, ideas and commentary.
Neither Mac Slavo or SHTF Plan are actively licensed or registered. We are not journalists or reporters. The information above is illegitimate until such time that a governing board approves our credentials, including but not limited to, our morals, ethics, grammatical and spelling ability, and journalistic background. Use of this information, disinformation, and misinformation is at your own risk.