You have been warned: The civil war begins when Hillary Clinton gets indicted
Mike Adams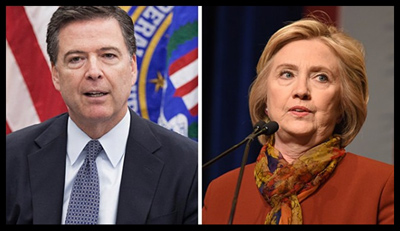 (Natural News) It's important to recognize events that are likely to trigger the coming civil war. And by "civil war," I mean a domestic, kinetic conflict between anti-American Leftists and pro-American patriots. In this case, "civil war" is not a political metaphor. I'm warning about actual kinetic conflict.
Finally, after years of cover-ups, the participants in the Clinton criminal cartel may be facing indictment and imprisonment. Earlier this week, lawmakers joined forces to send a criminal referral to the Dept. of Justice that recommends criminal investigations into James Comey, Loretta Lynch, Hillary Clinton, Peter Strzok, Lisa Page and Andrew McCabe, all "swamp creatures" who have committed outrageous criminal acts against the people of America.
As Newstarget.com reports, these co-conspirators are being referred for criminal investigations due to:
1) lying about intelligence in order to spy on the 2016 Trump campaign; and 2) intentionally botching the probe into Clinton's criminal mishandling of classified data via an unsecured private server.
See the criminal referral letter at this House.gov link.
Also, as reported on JamesComey.news, Comey transformed the FBI into a corrupt, treasonous deep state apparatus that actively obstructed justice in order to make sure Hillary Clinton got elected President:
In the first draft of a statement former FBI Director James Comey prepared for the press when he discussed the bureau's criminal investigation into then-Democratic presidential contender Hillary Clinton last summer, he dropped language that would have directly implicated her in a crime.
Support our mission and enhance your own self-reliance: The laboratory-verified Organic Emergency Survival Bucket provides certified organic, high-nutrition storable food for emergency preparedness. Completely free of corn syrup, MSG, GMOs and other food toxins. Ultra-clean solution for years of food security. Learn more at HealthRangerStore.com.
The point is, unless President Trump is literally killed in some brazen assassination coup — which is always a possibility — he's going to make sure Hillary Clinton and her cohorts get indicted. Regardless of what happens in the 2018 mid-terms, Trump is still President through 2020, and there's no way he's leaving office without making sure the corrupt deep state gets some serious payback.
The unhinged Left, of course, will immediately start rioting once Hillary Clinton gets indicted. Once the riots begin, I fully expect "kinetic engagement" to begin. Note that I do not support such bloodshed, and I don't condone it. The last thing I want to see is the blood of Americans spilled on the streets of America. Yet I fear this is exactly where things are headed for the simple reason that Leftists can no longer participate in a free society in any rational, lawful way. They are deranged, hate-filled lunatics who despise law and order and literally seek to murder their political enemies. The very idea that their own deep state treasonous swamp creatures might face the rule of law will drive Leftists to unhinged extremism, which is likely to include their bombing of government buildings, mass arson, chaos in the streets, the widespread targeting of police officers and the attempted murdering of conservatives and Trump supporters.
The extreme intolerance, irrationality, anger and lawlessness of the Left, in other words, is simply irreconcilable with a free society. The current situation cannot persist much longer without something breaking.
We aren't far away from a trigger event that could unleash all this. In fact, as I've explained on Natural News, there are globalist elements that actively seek to push America into a civil war in order to call for United Nations "peacekeeping" intervention (run by Obama, of course).
Listen to my podcast for more details, and make sure you're fully prepared for this dangerous possibility of what may yet come to pass:



 

Natural News is a science-based natural health advocacy organization led by activist-turned-scientist Mike Adams, the Health Ranger.

The key mission of Natural News is to empower consumers with factual information about the synthetic chemicals, heavy metals, hormone disruptors and other chemicals found in foods, medicines, personal care products, children's toys and other items.

Natural News covers holistic health, nutritional therapies, consciousness and spirituality, permaculture , organics, animal rights, environmental health, food and superfoods , and performance nutrition.

The site strongly criticizes drugs-and-surgery medicine, vaccines, corporate corruption, animal testing, the use of humans for medical experiments, the chemical contamination of foods, heavy metals in consumer products, factory farming and government corruption.

Natural News also warns its readers about science gone bad and frequently cites examples of science resulting in catastrophies that it calls "crimes" against humanity. Examples of such subjects cited by Natural News include:

Agent Orange
Thalidomide
Nuclear weapons
GMOs and "genetic pollution"
Aspartame and chemical sweeteners
Chemotherapy
The presence of hidden cancer viruses in polio vaccines
The continued use of mercury in vaccines and dental amalgams
The long history of pharmaceutical experiments on human beings, including the Tuskegee syphilis experiments conducted on African Americans in the USA.

Natural News employs a staff of over 20 writers and researchers who write up to 15 original news stories each day.