A Recipe for Massive Government Spending
Peter Reagan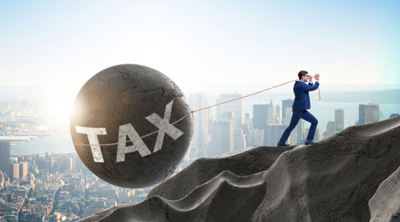 I try to avoid partisan politics in my analysis. And I never try to tell people how to vote or what they should think. I trust my readers to make their own judgments. But sometimes I can't avoid partisan politics because they can have a major impact on markets and the economy.
Leading Democratic presidential hopefuls Elizabeth Warren, Kamala Harris and Bernie Sanders have expressed desires to increase income taxes to 70% or even 90% on the rich, impose "wealth taxes" on their net worth and impose estate taxes that are equally onerous when they die.
The result would be that working people would pay state and local income tax on their wages, super-high income taxes on interest and dividends and annual wealth taxes and whatever was left over would be confiscated when they die.
In case you think these proposals are too extreme to become law, you might want to check out the polls. Recent polls show 74% of registered voters support a 2% annual wealth tax on those with $50 million of assets and 3% on those with $1 billion of assets.
Don't assume you're exempt just because your annual income is lower. Those tax thresholds are on wealth, not income, and could include stocks, bonds, business equity and intangible business equity for doctors, dentists and lawyers.
Another poll shows 59% of voters support the 70% income tax rate proposed by Rep. Alexandria Ocasio-Cortez (D-New York). Politicians go where the votes are. Right now, the votes are in favor of much higher taxes on you.
The history of these taxes is that the rates start low and the thresholds start high, but it's just a matter of time before rates rise, thresholds drop and everyone is handing over their wealth.
But taxes become very unpopular when too many people get clipped. And politicians are very sensitive to that. Now some Democrats are calling for a system that would allow them to spend much, much more money on social programs withoutappreciably raising taxes. For politicians, it's a dream come true — if it could work.
The leading Democratic candidates for president and numerous members of Congress have come out in favor of Medicare for All, free child care, fee tuition, a guaranteed basic income even for those unwilling to work and a Green New Deal that will require all Americans to give up their cars, stop flying in planes and rebuild most commercial buildings and residences from the ground up to use renewable energy sources only.
The costs of these programs are estimated at $75–95 trillion over the next 10 years. To put those costs in perspective, $20 trillion represents the entire U.S. GDP and $22 trillion is the national debt.
It used to be easy to knock these ideas down with a simple rebuttal that the U.S. couldn't afford it. If we raised taxes, it would kill the economy. If we printed the money, it would cause inflation. Those types of objections are still heard from mainstream economists and policymakers, including Fed Chair Jay Powell.
But now the big spenders have a simple answer to the complaint that we can't afford it. Their answer is, "Yes, we can!" That's because of a new school of thought called Modern Monetary Theory, or MMT.
Daily Reckoning managing editor Brian Maher previously discussed MMT here and here.
This theory says that the U.S. can spend as much as it wants and run the deficit as high as we want because the Fed can monetize any Treasury debt by printing money and holding the debt on its balance sheet until maturity, at which time it can be rolled over with new debt.
What's the problem?
Bernanke printed $4 trillion from 2008–2014 to bail out the banks and help Wall Street keep their big bonuses. There was no inflation. So why not print $10 trillion or more to try out these new programs?
There are serious problems with MMT (not the ones Jay Powell and mainstream voices point to). But very few analysts can really see the flaws. I'll be in an MMT debate with a leading proponent in a few weeks, where I will point out what I believe to be the biggest flaws with MMT. To my knowledge, no one else has raised them.
For now, get used to the rise of MMT. It will be a central feature of the 2020 election campaign. The disastrous consequences are a little further down the road.



James G. Rickards is the editor of Strategic Intelligence. He is an American lawyer, economist, and investment banker with 35 years of experience working in capital markets on Wall Street. He was the principal negotiator of the rescue of Long-Term Capital Management L.P. (LTCM) by the U.S Federal Reserve in 1998. His clients include institutional investors and government directorates.

His work is regularly featured in the Financial Times, Evening Standard, New York Times, The Telegraph, and Washington Post, and he is frequently a guest on BBC, RTE Irish National Radio, CNN, NPR, CSPAN, CNBC, Bloomberg, Fox, and The Wall Street Journal. He has contributed as an advisor on capital markets to the U.S. intelligence community, and at the Office of the Secretary of Defense in the Pentagon.

Rickards is the author of The New Case for Gold (April 2016), and three New York Times best sellers, The Death of Money (2014), Currency Wars (2011), The Road to Ruin (2016) from Penguin Random House.