Obama DOJ Ordered 500,000 Fugitives Deleted From Background Check Database
Tyler Durden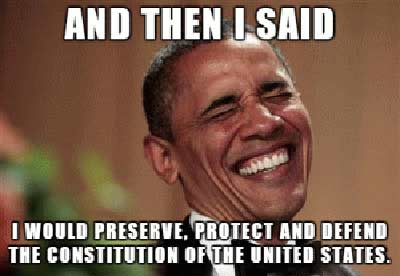 The Obama administration ordered the removal of over 500,000 fugitives with outstanding arrest warrants from the National Instant Criminal Background Check System (NICS) in late 2016, according to testimony from Acting FBI Deputy Director David Bowdich.
Bowdich confirmed a November report from the Washington Post which set the figure at "tens of thousands," after Sen. Dianne Feinstein (D-CA) asked him if more than 500,000 names were dropped from the database.
The FBI purged the names from the database after the Justice Department changed its legal interpretation of "fugitive from justice" to say it pertains only to wanted people who have crossed state lines.

What that means is that those fugitives who were previously prohibited under federal law from purchasing firearms can now buy them, unless barred for other reasons. -WaPo
"That was a decision that was made under the previous administration," Bowdich testified.
"It was the Department of Justice's Office of Legal Counsel that reviewed the law and believed that it needed to be interpreted so that if someone was a fugitive in a state, there had to be indications that they had crossed state lines," said Bowdich. "Otherwise they were not known to be a fugitive under the law in the way it was interpreted."
Since its creation in 1998, the NICS system has prevented 1.5 million people from purchasing a firearm, including 180,000 denials to fugitives from justice, according to government statistics.
While the FBI had a broad definition of "fugitive," meaning anyone with an outstanding arrest warrant, the Bureau of Alcohol, Tobacco, Firearms and Explosives (ATF) definition narrowed the definition to anyone with a warrant who has crossed state lines. The DOJ Inspector General, Michael Horowitz, urged the Justice Department to address the disagreement in terms "as soon as possible."
Shortly before President Trump took office, the DOJ Office of Legal Counsel went with the ATF definition.
"Any one of these potentially dangerous fugitives can currently walk into a licensed gun dealer, pass a criminal background check, and walk out with a gun," Robyn Thomas, executive director of the Giffords Law Center to Prevent Gun Violence, wrote in a letter to FBI Director Christopher A. Wray on Wednesday. The Giffords organization, founded by former Arizona congresswoman Gabrielle Giffords, called on the FBI and ATF to "correct this self-inflicted loophole" and recover all guns illegally purchased this year because of the purge of names from the database. -WaPo
"The Justice Department is committed to working with law enforcement partners across the country to help ensure that all those who can legally be determined to be prohibited from receiving or possessing a firearm be included in federal criminal databases," a Justice Department official told the Washington Post last November.



our mission:

to widen the scope of financial, economic and political information available to the professional investing public.
to skeptically examine and, where necessary, attack the flaccid institution that financial journalism has become.
to liberate oppressed knowledge.
to provide analysis uninhibited by political constraint.
to facilitate information's unending quest for freedom.


our method: pseudonymous speech...
Anonymity is a shield from the tyranny of the majority. it thus exemplifies the purpose behind the bill of rights, and of the first amendment in particular: to protect unpopular individuals from retaliation-- and their ideas from suppression-- at the hand of an intolerant society.

...responsibly used.

The right to remain anonymous may be abused when it shields fraudulent conduct. but political speech by its nature will sometimes have unpalatable consequences, and, in general, our society accords greater weight to the value of free speech than to the dangers of its misuse.

Though often maligned (typically by those frustrated by an inability to engage in ad hominem attacks) anonymous speech has a long and storied history in the united states. used by the likes of mark twain (aka samuel langhorne clemens) to criticize common ignorance, and perhaps most famously by alexander hamilton, james madison and john jay (aka publius) to write the federalist papers, we think ourselves in good company in using one or another nom de plume. particularly in light of an emerging trend against vocalizing public dissent in the united states, we believe in the critical importance of anonymity and its role in dissident speech. like the economist magazine, we also believe that keeping authorship anonymous moves the focus of discussion to the content of speech and away from the speaker- as it should be. we believe not only that you should be comfortable with anonymous speech in such an environment, but that you should be suspicious of any speech that isn't.