Gold: Another Month, Another Test Of Key Resistance - But This Time With A Difference
John Rubino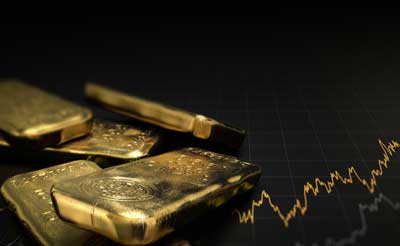 Gold spiked in January, and looked to be headed even higher. But there were some problems. First, futures speculators - as tracked by the Commitment of Traders (COT) report - had gone overwhelmingly long, and since they tend to be wrong at emotional extremes, this was a red flag. Second, gold was approaching the $1,360 level that had, since 2014, been the place where upward momentum went to die. For the relevant charts, see Gold Jumps To Crucial Technical Level. Important Action Coming Up.
By late January, this combination of technical resistance and overexcited speculators had once again proved impossible to overcome, and gold fell back to the low $1,300s.
But this drop also proved to be short-lived and shallow compared to past episodes, and now gold is threatening $1,360 again (on Friday, it peaked at $1,355). And gold's fans are once again wondering if it's about to break through, or if this is yet another set-up for disappointment. You can only watch this kind of pattern repeat for so long without getting cynical.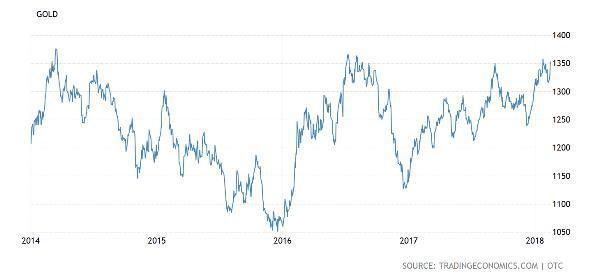 Yet, hope springs eternal, and this latest test has something going for it that the last one didn't: Where in January, the speculators were ragingly bullish, this time around they've been chastened a bit by the subsequent smack-down and are now a little better balanced. The latest COT report, released on Friday afternoon, shows speculators actively cutting their net long positions while commercial traders - who are usually on the other side of speculators' mood swings - are going less short.
So while the COT balances haven't swung all the way back to bullish, at least they're now heading in the right direction.
Meanwhile, in just the past few weeks, gold's fundamentals have become even more favorable. Stock and bond market volatility is soaring, presumably leading holders of financial assets to wonder if a little "safe haven" exposure isn't a wise thing. Inflation is now trending upward. Washington has thrown fiscal probity under the bus and embarked on a policy of permanent trillion dollar deficits. And the Middle East has become even scarier, with US forces killing Russians and Turks killing US Kurdish allies.
Add it all up and "risk-off" has a reasonable shot at becoming the dominant theme of the next few years (at least), which is traditionally great for precious metals. So when and if gold finally breaks through $1,360, it will have serious wind at its back.
DollarCollapse.com is managed by John Rubino, co-author, with James Turk, of The Money Bubble (DollarCollapse Press, 2014) andÊThe Collapse of the Dollar and How to Profit From It (Doubleday, 2007), and author of Clean Money: Picking Winners in the Green-Tech Boom (Wiley, 2008), How to Profit from the Coming Real Estate Bust (Rodale, 2003) and Main Street, Not Wall Street (Morrow, 1998). After earning a Finance MBA from New York University, he spent the 1980s on Wall Street, as a Eurodollar trader, equity analyst and junk bond analyst. During the 1990s he was a featured columnist with TheStreet.com and a frequent contributor to Individual Investor, Online Investor, and Consumers Digest, among many other publications. He currently writes for CFA Magazine.